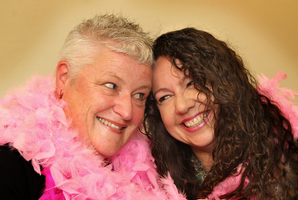 Pauline Keven is sick of breast cancer taking the people she loves.
So she is doing all she can to raise money for services supporting breast cancer sufferers in the lead up to tomorrow's HOT (House of Travel) Pink Walk on The Strand.
Ms Keven will cut off her mane of long, curly locks and donate it to help make wigs for breast cancer sufferers before taking part in the walk.
"I wanted to do it a couple of years ago but a friend of mine at the time told me 'don't ever cut your hair'. She's got breast cancer now. That was kind of what motivated me," Ms Keven said. "Plus, I've lost a lot of friends from different cancers. I wanted to raise what money I can because I'm just sick of it."
That same friend took part in the Pink Walk with Ms Keven in the past two years. She is not yet well enough to do so a third time.
Ms Keven cannot remember the last time she had her hair cut short.
"It's still quite scary but it's very important to me. I hate to see people going through it and it just seems to be an every day event, that someone else has some form of cancer. Seven women a day are diagnosed with breast cancer. So anything I can do, in my own little way, it's got to be good." Ms Keven works with Lyon O'Neale Arnold practice manager Caro Richards, a breast cancer survivor. Ms Richards was diagnosed in 2009 and the cancer journey will always be with her.
The gesture of donating the hair has brought the two women together in a unique bond.
"I actually can't understand why she would want to do it. The thing is, she has a choice, whereas I didn't," Ms Richards said. "But for someone like Pauline who is strong minded, I really take my hat off to her. For me, being a survivor, it's a special thing and I really appreciate it."
Donations can be made to Ms Keven at Lyon O'Neale Arnold or through an ASB account 12 3217 0034 221 01.
The HOT (House of Travel) Pink Walk is the annual fundraiser for Breast Cancer Support Service Tauranga Trust which supports local women and does not receive Government funding.