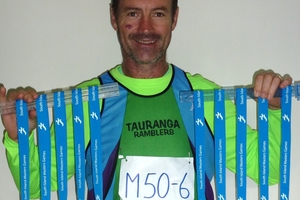 Tauranga Ramblers Masters athlete Bruce Solomon has pulled off a rare feat at the recently-completed South Island Masters Games in Nelson.
The 50-year-old recorded a clean sweep in all 10 events he entered - the 60m, 100m, 200m, 400m, 800m, long jump, high jump, discus, javelin and shot put - picking up 10 gold medals for his troubles.
Solomon has made no secret of the fact he is after a number of records set by former All Blacks flyer Bruce McPhail, who played two tests for the national side in the 1950s.
The South African-born athlete was robbed of that opportunity by wind gusts outside the normal parameters, but he was otherwise happy with his outing.
"It was a hectic schedule and a great personal achievement for one day," said Solomon.