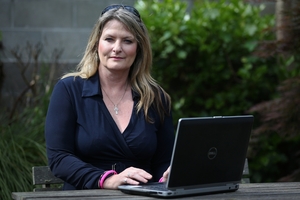 Teenagers can get hooked into gambling and debt through online games found on Facebook, a Tauranga addiction specialist warns.
Salvation Army public health promoter for problem gambling Yvonne McLean said while the trend had not yet emerged in Tauranga, overseas teenagers were increasingly being lured into gambling through the same online games that were popular among Bay youth.
Young teenagers in particular were inundated with invitations to play games and online pokies for points through Facebook. That had become a gateway to gambling real money, leading toward major debt and in some cases fraud convictions for young people, Ms McLean said.
"What has become a huge problem is when debit cards became popular what we saw was an increase in online gaming," she told the Bay of Plenty Times. "They start off on Facebook and are offered all these types of games to play which seem harmless and fun but for those with addictive personalities, they can get addicted from that and start to play for points."
Ms McLean said such sites often had links or levels offering real-money gambling, leading young teens down a dangerous path. "When their credit's up they can buy more for $3 and their debit card's right there."
Ms McLean said the issue was causing havoc overseas and New Zealanders needed to be aware.
"In the UK and US it's become a huge problem. They get addicted. They start stealing their parents' credit cards and going on to other gambling sites. They only need to tick a box to say they are 18."
Young New Zealanders were often smart enough to break away once they were made aware of what was happening, Ms McLean said.
"It's very much education. I really believe that if you can get students and educators educated on this, it can make a huge difference.
"It's something we can see coming and we've got the ability to prevent as much as we can."
Ms McLean said gambling was as much of an addiction as drugs or alcohol and offered the same physiological rush, hooking people in for more.
The new Salvation Army Addictions Service has moved from its former Cameron Rd address to 176 Fraser St.
The service is holding an agency open day on Thursday October 24, from 10am to 3pm.