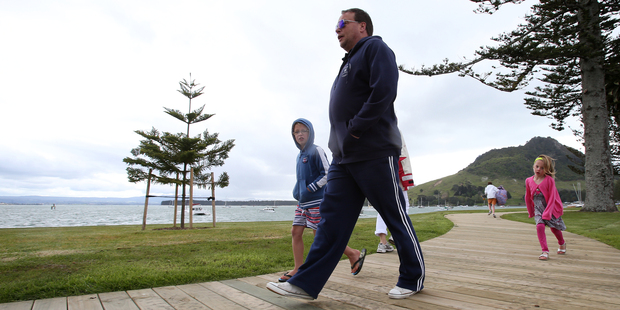 The Pilot Bay Boardwalk is finished and it's time to break out the picnic rugs.
Completion coincides with the first cruise ship visit for the 2013/2014 season this Saturday.
The 920m-long boardwalk, built 100m at a time, has taken nearly 15 weeks to complete and stretches along the grass side of the foreshore from Salisbury Wharf to Pacific Ave.
Tauranga City Council communication manager Frank Begley said the boardwalk would be officially opened to the public this Saturday, although people had been using parts of it for some weeks.
Mr Begley said to celebrate the occasion Mainstreet Mount Maunganui and council were encouraging families to grab some takeaways or pack a picnic and head down to Pilot Bay on Saturday evening.
From 5pm to 6.30pm (weather permitting) people could enjoy free entertainment while they dined, then wave off the cruise liner Sea Princess which would depart at the Port of Tauranga at 7.30pm, he said.
"People are also most welcome to tread the boards and enjoy the views and good company."
A brief ceremony to bless the site and unveil a small plaque will take place at 7am on Friday.
The Pilot Bay Boardwalk Project was sponsored by the Port of Tauranga Limited and supported by Ngai Te Rangi Iwi.