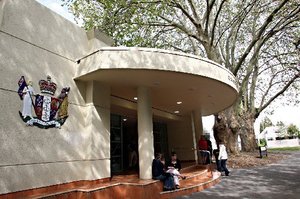 Two Katikati men accused of the inhumane shooting of goat have had their court case adjourned off until November.
Katikati sharemilker Carl Ian Williams, 36, and a male colleague Stephen Bowman, had their attendance excused when the matter was called in Tauranga Registrar's Court today.
The pair are charged with a joint breach of the Animal Welfare Act.
The charge stems from an allegation that on May 21, 2011 Bowman shot a goat after it was thrown into the air, and Williams encouraged the activity and video-taped the shooting.
The pair are due to appear in Tauranga District Court on November 13 for a status hearing.
A warrant for arrest has been issued for a third man also charged in relation to the same matter who failed to respond to his court summons.