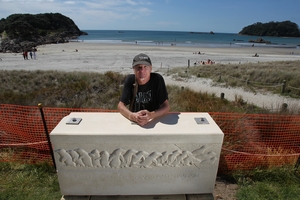 A sculpture capturing the moment a group of penguins returned to sea after being cleaned of Rena oil has been erected at Shark Alley.
Mounted on a plinth of salvaged wood from the Rena, the Oamaru stone sculpture has a "primitive" relief frieze along one side of the bewildered penguins being released on the beach, then realising they were free and running off.
The sculpture sits at the site where many of the birds caught in the Rena oil spill were returned to their homes.
Papamoa artist Peter Cramond completed the piece while taking part in the week-long Craigs Investment Partners Sculpture Symposium in November last year. His piece, The Sea's That Way was chosen from the total 15 entrants and was gifted to the Tauranga City Council by Tauranga Garden and Art Festival Trust.
Mr Cramond said his inspiration for the piece came from a video on the Bay of Plenty Times website of the last group of penguins who were taken to Shark Alley to be released.
"I had the idea when I was watching the video clip on my laptop. It was frames of the penguins looking confused then finally heading to the water.
"It took a week to carve at the symposium," Mr Cramond said.
"It's a relief frieze, a Renaissance carving of a long, thin story.
" It's very simple and primitive style."
Mr Cramond said when he read about the Rena disaster in the paper, he felt like he had lost a family member.
"I went through all the stages of grief and I wasn't the only one. A lot of artists felt that way. The America's Cup created such passion and camaraderie with people, why can't we have that sort of feeling for the environment?"
Mr Cramond hoped other art works would eventually line the coast from Mount Maunganui to Maketu with messages about environmental issues.
"It could become a real tourist attraction, it's something real positive that could come from something so negative."
New Zealand Garden and Art Festival director John Beech said the trust had bought Mr Cramond's piece with the intention of collaborating with the Tauranga City Council to have it mounted in a public space.
"We purchased Peter's piece and approached Mayor Stuart Crosby with the idea of gifting it to the city. We were really aiming to make sure it happened for the two-year anniversary of the Rena grounding."
The sculpture's official unveiling will take place today at Shark Alley at 2.30pm. Mr Cramond will be exhibiting other pieces inspired by the Rena disaster, with works from other well-known local artists, at the Zeus Galley today from 6pm to 8pm.