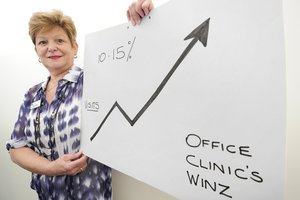 The average Bay of Plenty power bill jumped more than $55 in the past year .
The Ministry of Business, Innovation and Employment's Quarterly Survey of Domestic Power Prices showed the average Bay of Plenty power bill rose $57.89 in the last year - a 2.5 per cent increase.
At the same time, the average power bill throughout the country rose $72 - a 3.3 per cent increase. The study was based on an average household using 8000kWh per annum.
Tauranga Contact Energy customers suffered the biggest price hike of $249 over the last year - a 10.4 per cent increase in retail power costs from August 2012.
Contact Energy spokesman Nicholas Robinson said about 40 per cent of their prices were set by outside forces, such as the network and transmission costs.
The remainder of the bill was made up of energy costs and other company costs, such as the company call centre, Mr Robinson said.
"Across New Zealand there has had to be significant investment in transmission and networks to make sure the system is robust, so some of those prices reflect rising network costs."
Mr Robinson said Contact Energy had deals for customers such as the "online, on time" package that gave customers a 22 per cent discount if they paid their bill over the internet before the due date.
At the other end of the spectrum, Just Energy customers enjoyed a $126 decrease in power prices. Just Energy were unavailable for comment last night.
The general increase in power costs came at a time when many Bay of Plenty residents were struggling to make ends meet.
Last month, Grey Power negotiated a cheaper power deal for its 64,000 members by forming Grey Power Electricity, in partnership with Pulse Energy - the parent company to Just Energy. The deal launched last month gave Grey Power members access to low-cost power and easy-to-read bills.
Coastal Bay of Plenty and Districts Grey Power president Ruth Dekker said she had been "inundated" with calls from people wanting to join up.
Pensioners struggling to pay their power bills could save up to $300 a year under the scheme, she said.
"I'm getting calls from Opotiki, Ohope, Whakatane. People who are living on just a pension are finding it very difficult. I'm really being chased for membership."
Tauranga Budget Advisory Service manager Diane Bruin said she had not noticed an exorbitant price increase with her clients.
If clients were paying big dollars, she told them to make sure everything was switched off when not in use.
"The ... increase isn't much overall but we have people with a lot of debt and the power companies are taking a much tougher stance with them.
"As well as turning everything off at the wall, I also recommend clients check out the Powerswitch website but more than once. The prices change regularly."
Mrs Bruin said some people chose to stay with companies because of the benefits they received.
Power company increases from August 2012 to August 2013
*Trust Power $69
*Contact Energy $249
*Energy Online $0
*Genesis Energy $125
*Just Energy -$126
*Powershop $0
*Mercury Energy $97
*Meridian Energy $37
*Nova Energy $70
Power prices - year to August
Bay of Plenty average increase: $57. 89
Biggest jump: Contact Energy: $249.
Biggest decrease: Just Energy: $126.
National average increase: $72.