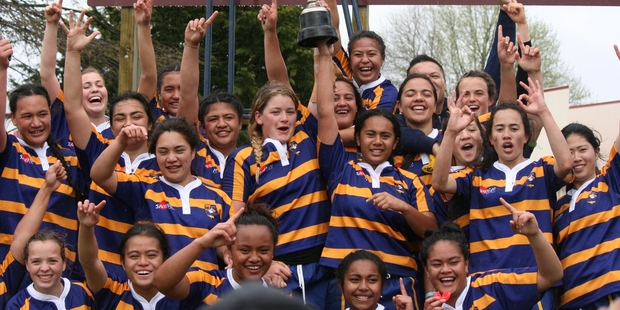 While the Steamers may be struggling, hope isn't entirely lost for Bay rugby.
The Bay of Plenty secondary schoolgirls' rugby team have won the Northern Region competition, beating last year's champions Auckland 45-17.
Led by inspirational captain, Opotiki's Luka Connor, the side were too powerful for their northern neighbours.
In his second year as coach Charlie Hurihanganui told the Rotorua Daily Post yesterday he was proud of the girls' effort.
"I'm extremely proud and honoured to coach this team this year, because we've done a hell of a lot of work to get to this stage here and it's always difficult to beat Auckland and Auckland have really dominated over the last few years."
Hurihanganui said the win was set up by the forward pack with players like powerhouse prop Diandra Punivalu from Rotorua Girls' High School leading the way up front.
"Our forwards really set the platform for the team and just took it to the Auckland big forwards and dominated ... and everything just started from there, really."
Playing into a strong head wind in the first half, Hurihanganui said the plan was to keep it tight.
"[Auckland] won the toss but they didn't use the conditions very well. They never kicked into the corners or anything like that. They just tried to run the ball so we just tried to put pressure on them with our defence and just tackled them out of the game."
Whakatane High School lock Jimi-Leigh McLean along with loose forwards Ashleigh Nathan and Natalie Delamere, both from Rotorua Girls' High School, were standouts for Hurihanganui.
"It's really looking promising for the Bay now because they've been really struggling for the last few years and when I took over last year, they hadn't won a game for so many years."
The side piled on the points in the first half going into the break 33-10.
Hurihanganui said with the wind at their backs and a vocal home crowd on the Rotorua Girls' High School field the side continued to pile on the pressure
"In the second half we just kept it nice and close. So we brought the backs in nice and close and it was easier to do the passes and all that and kept it really tight in the forwards and just kicked for the corners."
Hurihanganui said a number of the players in his secondary schoolgirls' team had done enough to get a call up into the women's squad which he also coached.
"I've got the Bay women's now and we have a mini tournament coming up in two weeks' time, up in Hamilton - so a few of those girls will get selected for the Bay women's side to go away and that's a stepping stone."
Bay of Plenty 45
(Stacey Waaka 2, Luka Connor 2, Diandra Punivalu, Natalie Delamere, Tamia Dinsdale tries; Sienna Whare 5 cons) Auckland 17. Halftime: 45-17.