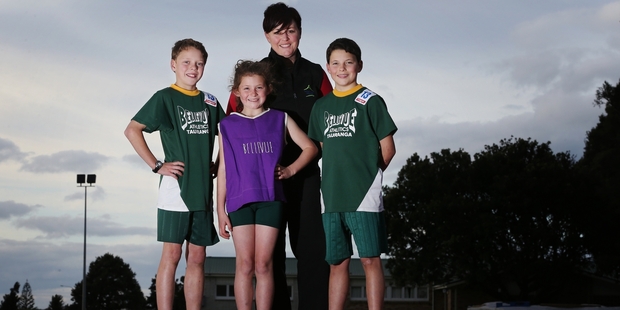 The Bellvue Athletics Club will begin its 50th year in fine form with the first official club day of the season on October 15.
The club, named after the French word for beautiful (Belle) and view, due to the fantastic views of Mauao from Tauranga Domain, held an open day last month to celebrate its first 50 years.
The club has changed over the past half century, transforming from an informal collection of families running and jumping in cow paddocks full of prickles to a modern club with all the necessary amenities. The club was originally where the Otumoetai Tennis and Swimming Club is now, with the kindergarten taking the place of the athletics pavilion built by the original members including representatives of the Hunt, Gadby, Collard, Wright, Poulson and Griffin families.
Then, buses delivered children from all over the district to compete against a formidable Bellvue team, sporting handmade embroidered purple cotton uniforms and bare feet.
Club treasurer Penny Lloyd, who plans to be at the club with her four children for at least a decade, said the need for a celebration was discovered at prizegiving last season, when members were informed that this year marked the club's 50th anniversary.
"It started the thoughts for the open day and how we can advertise ourselves and put ourselves back into the community," Lloyd said.
"There are a lot of old families with grandkids now attending."
Club nights start at 5.20pm and include two track and two field events.
Volunteers are still needed and registration can be done at www.sportsground.co.nz/bellvueathletics