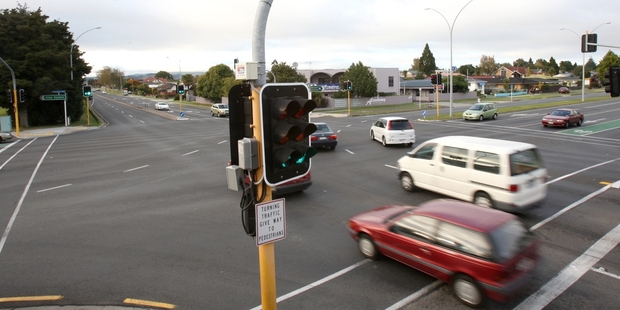 Hundreds of Western Bay drivers each year are flouting the rules at traffic light controlled intersections, including running red lights and failing to give way to oncoming traffic.
New figures released by New Zealand Police show 262 Western Bay drivers were issued with traffic light related infringement notices in the year to date.
Total infringements in 2012 were 556, slightly up on 545 in 2011, and 463 in 2010.
Western Bay road policing manager Senior Sergeant Ian Campion said the Bay was "having some particularly bad weeks in terms of crashes", a number of which were intersection related.
"People simply don't take care," he said. "There's very little wrong with the intersections, they're clearly defined, the controls are well marked.
"I really don't know what it is in the Western Bay/Tauranga drivers' psyche that makes them particularly vulnerable in intersections.
"Nobody deliberately pulls out at an intersection into the path of another vehicle."
Drivers caught for such offences often said they had checked for oncoming traffic, he said. They developed bad habits with running red lights, which often began by running amber lights.
"People continue to push the envelope."
Blackspot intersections included 15th Ave and Fraser St, and 15th Ave and Cameron Rd, he said.
Nationwide, red light running was the most common traffic light-related infringement, with 10,898 infringement notices issued in 2012 alone, although that had decreased from 15,037 in 2010.
Men were up to three times more likely to commit a traffic light related offence, with the highest number of offenders in the 31-50 age bracket.
National road policing manager Superintendent Carey Griffiths said the data had not yet been analysed in depth to determine possible factors regarding the decline in yearly infringements or in relation to the differing trends by sex or age.
AA motoring affairs general manager Mike Noon said feedback from members and the public showed they were "heartily sick and extremely unhappy" with people running red lights. "If you're a motorist and you see someone running a red light you think 'that could be me coming the other way'," he said.
"We've got a habit which has developed in New Zealand which is the amber light means stamp on the accelerator."
The downward trend in infringements could be attributed to several factors, including more media attention on road safety, people driving less in the economic downturn, and agencies having a "better, deeper conversation with public about road safety" in the past few years, he said.
He expected further improvements after a government initiative got under way at the end of next year, which would see new generation red light cameras installed throughout the country.
The cameras will have radar to detect red light runners and operate wirelessly to automatically send information to police.