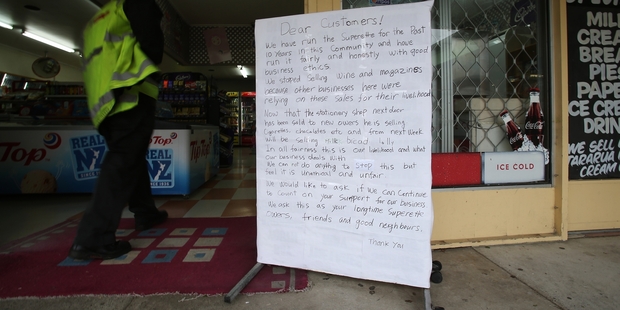 A row has broken out between two Maungatapu shops over the sale of cigarettes, chocolate and chewing gum.
The Maungatapu Superette yesterday displayed a large, handwritten sign in front of its doorway saying it had stopped selling wine and magazines to protect the livelihood of nearby businesses, but the new owners of Maungatapu Stationers were now taking their custom.
But the stationers' assistant manager said competition was a part of operating a business.
The dairy owners, who did not want to be named, said new people took over over the stationery shop in August and had gradually brought in products sold at the dairy, priced about 10c cheaper. They felt the sign was the only way they could fight back.
"They started selling cigarettes three weeks ago, then they brought in chocolate bars the next week, then chewing gum and cookies.
"[Today] they will be starting to sell milk and that's a big problem for us because milk and dairy are a big seller."
The owners said when the stationers just sold cigarettes it was not a big deal, but they were upset when food products began to be sold.
Maungatapu Stationers assistant manager Raj Singh said they had nothing against the superette owners, they were just trying to bring their business up: "I think everyone has a right to do that, it's not illegal. There is no shop around here that sells fruit and vegetables, we're trying to get that organised but it will take a long time.
"It's just about business, competition is everywhere. This shop was in the same place they were two years ago when they sold magazines and stationery."
Customers spoken to by the Bay of Plenty Times said they would continue to support the superette but had no problem with the stationers selling the same products.
Jeremy O'Shannessy said he visited the superette about three times a week because of the good service and friendly owners. He said the sign was brilliant and hoped the shop's regulars would continue to support the business, but he did not think there was anything wrong with the stationers expanding their operation.
Tenaia Renton said she would continue to visit the superette daily for her cigarettes, food or treats for her children, regardless of what the other shop sold.