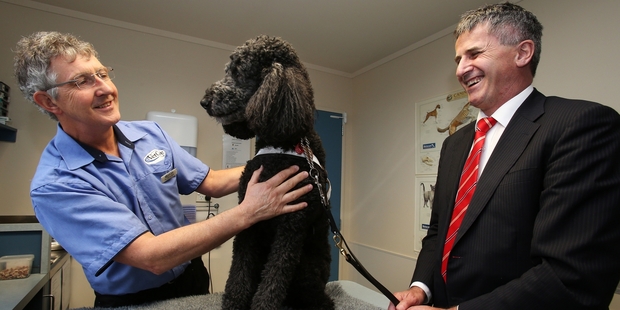 Tauranga dog owners are being warned to vaccinate their animals against an outbreak of kennel cough.
Vet Care Bethlehem contacted the Bay of Plenty Times after treating about 20 dogs for the disease, similar to whooping cough, in the past few weeks.
Director Garry Ball said that was many more cases than they would usually see, especially at this time of year. He said it was typically transferred from dog to dog at boarding kennels, doggy day care and at other places where dogs socialised.
"The majority of dogs that go into boarding kennels and doggy day care get vaccinated but there are plenty of dogs that don't," he said. "When it does occur, we get an epidemic. It's not dissimilar to kids going to school and coming home with bugs that are doing the rounds."
After being alerted about the kennel cough outbreak, Neville Falconer was straight on the phone to Vet Care Bethlehem to get his guide dog, Sophie, vaccinated.
If Sophie contracted the disease, Mr Falconer said he would have lost his independence for as long as it took her to recover, potentially a number of weeks.
"Sophie is very important to me and I need to keep her away from that sort of stuff, so we always keep her up to date with that sort of thing. Because she's a working dog for me, I would have to wait to get out and about until she was better and it's also very distressing for the dog."
Tauranga Vets senior companion animal veterinarian Heather Jackson said they had seen one or two coughing dogs.
"We recommend that any of our clients who take their dogs to training programmes, boarding kennels, doggy day care centres, or any of these places where you get a large number of dogs collecting, to have vaccinations.
"Kennel cough is traditionally a summer problem, maybe because this is when owners leave their dogs at kennels."
Ms Jackson said they had one request for kennel-cough vaccination and it was easy to administer via the nose.
Janine Wagstaff, from Beach Road Veterinary Centre, said they had not seen any cases of the disease but they had been doing a lot of vaccinations.