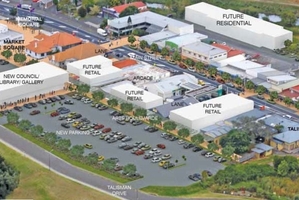 Katikati's town centre is to get a major facelift.
Residents have been contributing to the project via targeted rates for the past five years.
Western Bay of Plenty District Council strategic property manager Blaise Williams said the first two areas set to receive a facelift were the Katikati Memorial Hall and the fire station building in Main St.
He said work would not start until the town's fire brigade moved out of its current premises, which were not up to earthquake safety standards.
Work on the town hall area would include removing all carparking out front and creating an open Memorial Square. It was envisaged that the area would be like a town square.
The plans have been in place since 2010 with work starting soon.
Mr Williams said Katikati was like several small New Zealand towns that "looked a bit tired" and was in need of a makeover.
"We would like to bring it up to a nice standard," he said.
Mr Williams said the area surrounding the fire station would also be developed into pedestrian precinct areas that could link up to a new pedestrian bridge over Uretara Stream.
He said discussions were also being held with community groups willing to use the building.
However, he said it could also be turned into a multipurpose facility not solely used or managed by one group.
Mr Williams said the town's murals would be kept alive.
"We don't want to get rid of them. We want to work with what is already there and rejuvenate the surrounding area."
Mr Williams said all plans were still subject to change after consultation and feedback.
He said the projects were still being fine-tuned, but he hoped to have the first part of the work done by March next year.
He said the work would not cause too much disruption for residents and visitors to the town and he hoped the community would be pleased with the planned changes.