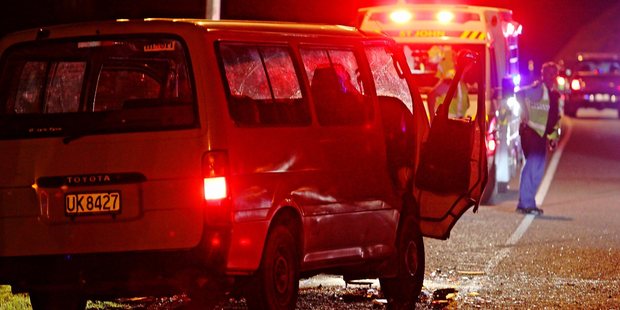 Police say two young children are lucky to be alive after a fleeing driver they were pursuing smashed into a family's van last night.
The crash occurred on the section of State Highway 29 between the Oropi Rd and Poike Rd roundabouts about 7pm.
The two children, aged between 4 and 5, were seated in the front of the single cab van driven by a female family member.
It was headed towards Welcome Bay when the fleeing car, carrying two people travelling in the opposite direction, crossed the centre line, Sergeant Wayne Hunter said.
Mr Hunter said there was a brief police pursuit before the crash.
The fleeing car was recorded by a police officer travelling at 122km/h through the Welcome Bay Rd roundabout shortly before the accident.
"A patrol car clocked it doing 120km/h in a 50km/h area.
"So he [the police officer] turned around to follow and catch it up.
"He didn't have his lights on until he caught up with him at Poike Rd.
"That's when he put his lights on. That's when he [the fleeing driver] floored it," Mr Hunter said.
When asked if he was satisfied with how the police pursuit went, Mr Hunter said he was.
"The officer had only just called it in to 'comms' and turned his lights on when he [the fleeing driver] crashed."
The driver crossed the centre line, spinning 180 degrees to hit the van's front with the car's rear end.
"Which is lucky, otherwise they would have been dead.
"He would have lost some of his speed spinning around."
The impact of the crash pushed in the front of the van and threw the car 20 metres down a bank.
Police received reports that the children were screaming inside the van, but its driver and the children were unhurt when emergency services arrived.
Mr Hunter said the fact the children were appropriately restrained had saved their lives.
"The kids were all strapped in their seats properly, which is what saved them.
"They would have gone straight through the windscreen," he said.
"There's a lesson there. You never know what's going to happen." Family members came to pick up the children and driver, who was believed to be a family member.
The female passenger in the fleeing car received moderate injuries, including smashed teeth, and was taken to Tauranga Hospital.
The male driver was taken to Tauranga police station, where he blew 630 micrograms of alcohol per litre of breath.
The legal limit is 400mcg.
Mr Hunter said the driver would face a failing to stop charge, among others.
Roading contractors heading home for the day helped control traffic as emergency services worked to assess the scene.