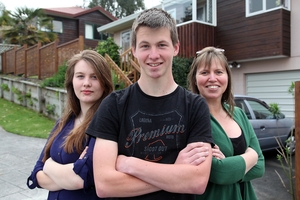 Members of a Bay family are being hailed heroes for dragging a paralysed woman out of her smoke-logged house after she suffered a stroke while cooking.
Karen Arthur, daughter Danielle, 19, and son Andrew, 17, had just returned home from shopping when they heard a beeping noise coming from their elderly neighbour's Hairini house about 7.20pm on Monday.
"We went next door to see if she was okay. We didn't realise there was smoke in her room we thought it was white curtains," Danielle said.
"We could hear her knocking and we went around the back."
The smoke was so thick the trio could not see into the house until Danielle smashed through a window with a wrought iron garden chair.
As some of the smoke cleared they spotted Joyce Langdon, 74, lying between the dining room and the lounge, yelling and pounding the floor to attract attention.
"It turned out she was lying on the ground because she'd had a stroke," Danielle said.
Andrew Arthur called the emergency services while his sister climbed inside and forced open a door to let the others in.
The two women had to roll the partially paralysed Mrs Langdon on to a floor mat and pull her to the door before two other neighbours arrived at the house and helped carry her down to the road.
The smoke was so overwhelming Danielle was forced to run to the window for air a few times during the rescue effort.
"It was like it was fog really. It was white smoke and it was quite horrible. The room was completely filled," she said. "It happened quite fast. We just wanted to get out."
Meanwhile, Andrew had raced into the kitchen where he found a pot melted to the element.
He had to yank the pot off the stove top before turning the element off and opening the windows to get rid of the smoke.
It appeared Mrs Langdon had been boiling eggs when she had a stroke which left her partially paralysed and unable to move from the floor, Danielle said.
She described the whole situation as surreal. "I think adrenaline just took over.
"It's a bit hazy for me, everything that happened. It was the sort of thing that you just don't think is going to happen.
"I'm just glad we came home. We weren't going to because we were going to get some takeaways but I'm so glad we did."
Mrs Langdon's daughter Wendy Jellie said the family could not thank the Arthurs enough.
"They are our heroes," she said. "It was a miracle really. They went out shopping and weren't going to come home ...
"We feel indebted to them."
Mrs Jellie did not know how long her mother had been lying on the floor in her home but said the pot was dry and only a few pieces of blackened egg shells remained.
Mrs Langdon was still in hospital and is weak down her left side because of the stroke which was caused by a brain bleed, Mrs Jellie said.