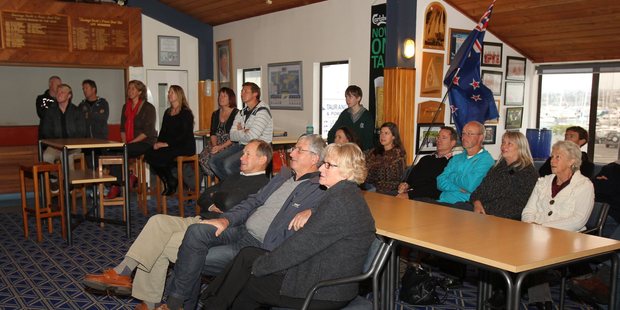 Members of Tauranga Yacht and Power Boat Club gathered to watch what could be the last races of the cup. Photo / John Borren
Bay fans will be cheering on Team New Zealand as the crew try to seize the America's Cup today.
Huge cheers and chants of "Great work, Deano" went up at the Tauranga Yacht and Power Boat Club yesterday as Emirates Team New Zealand crossed the finish line 15 seconds ahead of Oracle Team USA in the thrilling first race.
Excitement built again for race two only for spectators' hopes to be dashed after it was twice put on hold because of high winds and then eventually called off.
Team NZ, leading the regatta 8-1, need just one more win to take out the series.
Club member Barbara Gardiner said she was confident Team New Zealand would win. "We all have our fingers crossed they can bring the Cup back to Auckland. I can't imagine why they can't as we've got a great boat, a great team and the strength to do it," she said.
Club member Roger Mark, 75, agreed. "It's hugely exciting, and I'm sure they can take it out [today]," he said. Club commodore Gary Smith said the phones at the club had "gone ballistic" over the past few days with people wanting to learn how to sail.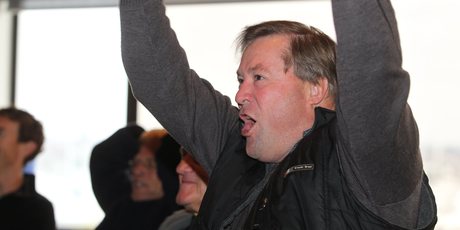 "Most of our inquiries are from parents wanting to sign their kids [up] but I'm sure behind it the parents are also keen to have a go too. It's a fantastic response which can only be good for our club and the future of sailing in this country."
The club's two new Learn to Sail professionals, Rory Gleeson, 22, from Canberra and Georgi Ridler, 21, from Brighton, UK, arrived in New Zealand earlier this week and were also soaking up the excitement.
Mr Gleeson said it was fantastic to arrive in time to be able to join in the America's Cup fervour. "We have nothing like this back home. Winning the Cup will mean huge benefits for this country for sure."
Workplaces across the Bay are also showing their support for the team.
Julianne McMillan, Tauranga-based KPMG's office and events co-ordinator, said staff had been watching the racing from the office and it would be no different today.
A large number of the 70 staff would be coming in early today as the social club was putting on a special breakfast for the event.
"Everyone has also been asked to wear red socks if they have them, or to wear some red or black at very least. It's very exciting and we really hope they do win. But being accountants we're a very cautious lot and don't want to predict the outcome or bring the guys any bad luck," she said.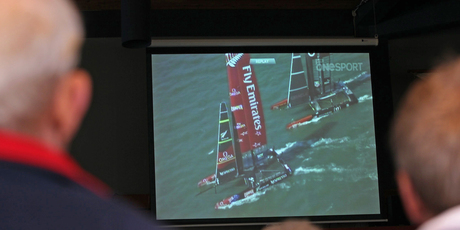 A spokesperson from Sulphur Point-based Hutcheson Boat Builders said staff were too busy to down tools completely as they were under pressure to finish a boat by today. But they would be "cranking up" their radios and watching the race on their iPhones as time allowed.
Newcombe Boat Building Services Ltd owner James Newcombe, 39, said he would be watching the racing at home with his wife and children. "I've been passionate about sailing all my life and have seen every race. Everyone I know has also been watching the racing. It's been incredibly exciting. There is no doubt in my mind that Team New Zealand can take out the series today."
Bringing the America's Cup back to New Zealand would have spinoffs for the local economy, including our boat building industry, and would entice more people to take up yachting, he said.
Tauranga City Council did not have anything formal planned for the next America's Cup race, a spokesperson said.
Tauranga's Mayor Stuart Crosby, who was watching the racing from home, said he was convinced the team could wrap up the series with a win today.