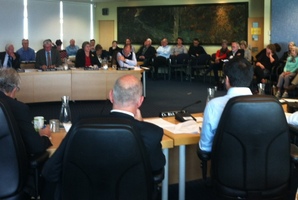 A packed public gallery has greeted city councillors today as residents protest the city's freedom camping bylaw.
Several residents have turned up to the council meeting this morning, opposed to allowing freedom camping along Marine Parade.
The residents will get a chance to speak at the public forum in Tauranga City Council Chambers today.
The bylaw will mean that people can sleep overnight in vehicles that are already permitted to park there 24 hours without penalty.
Council will listen to residents in a public forum before discussing the bylaw.