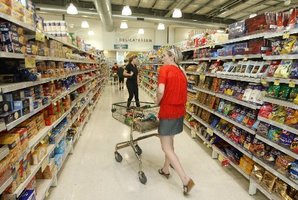 Getting groceries delivered to your house is becoming increasingly popular with Kiwi shoppers.
Countdown'sonline supermarket-the only one in the country-gets about 500,000 hits a month and hundreds of thousands more are downloading the online shopping app to avoid the supermarket hustle.
The opposition is set to follow suit later this year, but does online shopping really save you time and money
Progressive Enterprises has been running an online service for 15 years, which was relaunched under the Countdown brand in 2010.
The company's Countdown chain is New Zealand's only online grocery store, with an average of 500,000 hits on its website every month.
Foodstuffs-owned New World stores in the Wellington region are gearing up to trial an online shopping option, which will launch later this year, says Foodstuffs communications manager Katherine Klouwens.
Various online shops such as Foodbox.co.nz and Vegdout.co.nz deliver boxes of fresh fruit and vegetables, and meat packages, to your door from $33 upwards, but don't offer other groceries.
Progressive Enterprises communications manager Kate Porter says Countdown is enjoying record-high numbers of people shopping for groceries online, with the service having taken off in the last few years.
"People have really started to embrace it ... we know from feedback that it's particularly good for new or busy mums, the elderly, small businesses to stock up their kitchen, and people with transport or mobility difficulties."
How much does it cost?Countdown charges depending on how much you spend and where you live, but fees to order and pick up start at $3.25.
Delivery fees range from $8.25 for orders $250 and over to $15.25 for orders under $100.
Countdown won't disclose customer numbers, but says their online shopping app alone has had 200,000 downloads in the last year.
The free app includes a digital shopping list with barcode scanning capabilities, prices, tailored specials, recipes, and can be connected to the customer's online shopping account to make the transaction.
Rise of online shoppingThe growth in online shopping can be attributed to people's busy lives, and increasing "trust" as the number of reputable online retailers, such as UK clothes website ASOS, grow, Ms Porter says.
"Five years ago would you have felt comfortable sending your credit card details and randomly getting a piece of clothing that you didn't know would fit?
"The environment has changed so that people feel a whole lot more comfortable [with] that online space."
Ms Porter says Countdown's online service has a range of features such as remembering your shopping list, letting you choose the ripeness of your fruit and delivering up until 8pm each day.
It's not just the big cities that are jumping onboard; online shopping services have just been rolled out in Ashburton, Levin and Warkworth, she says.
Ms Porter highlights potential cost savings in online grocery shopping. "It's that convenience and you don't have to spend $2.21 a litre on petrol. Ordering online often helps customers to stick to their 'must have' list, and there's also a running total of your basket before you confirm your order, to help those with budgeting."
Feedback is also showing that shopping online is giving parents the option of shopping in peace, with "no more tantrums in the supermarket".
However, Consumer New Zealand chief executive Sue Chetwin says the downside to shopping online is that it can be expensive.
"Once you add in delivery, it's an expensive way to get your groceries."
AdvantagesNot wandering the aisles means you are less likely to splash out on unnecessary items.
Convenience of delivery at a time that suits and no heavy lifting.
Shopping online gives you a running total, which helps with budgeting.
Not managing children in the supermarket.
Saves time and petrol money.
DisadvantagesDelivery costs can be expensive - especially if your grocery bill is at the lower end.
No deliveries on Sundays.
Turnaround takes at least four hours.
Less control over the quality of the groceries.