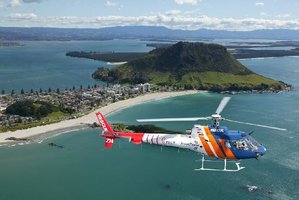 The two men hurt in a double shooting in Kawerau today are in a critical condition after being flown to Waikato Hospital by Tauranga's TrustPower TECT Rescue Helicopter.
A 38-year-old man suffered critical chest injuries and was flown by the helicopter. The other man, aged 48, was taken by Waikato Westpac helicopter to Waikato also in a critical condition with abdominal injuries.
The shooting occurred about 6.15am at a house on River Rd.
No arrests have been made.
An investigation into the shooting has been launched and police want to hear from anyone who saw or heard anything suspicious in the area this morning. They are particularly interested in a dark-coloured vehicle seen leaving the area immediately after the shooting.
Anyone with information is asked to contact Kawerau Police on 07 308 5255. Alternatively information can be provided anonymously via Crimestoppers on 0800 555111.