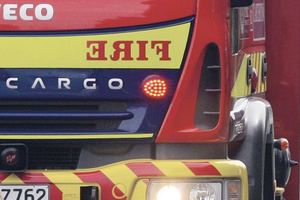 A person was treated at the scene of a house fire for smoke inhalation yesterday evening.
Firefighters from Greerton Fire Station were called to the Gate Pa house at about 5.30pm yesterday and were there for more than an hour putting the fire out.
Fire northern communications shift manager Jaron Phillips said there was one person who suffered smoke inhalation but they were not transported to hospital.
Meanwhile a scrub fire in Whakamarama was caused by a rubbish burn off that got out of control.
Mr Phillips said the fire was about 100m by 50m in size and burned across wetland about 500m from the nearest road.
Mr Phillips said three pumps, a water tanker and a van were sent out from Katikati and Omokoroa to battle the blaze.
Trains were also stopped from travelling through the area while the fire was being put out.