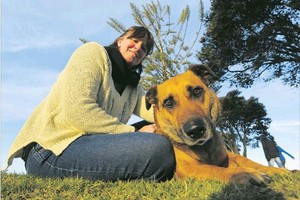 When Alan Rittey knew he was going to die, he tried to make arrangements for his best mate.
Mr Rittey asked staff at Tauranga Vets to help find a new master for his dog Bosun for when he would no longer be able to take care of him.
Mr Rittey died last month. Since, Bosun, a black and tan 5-year-old Rhodesian ridgeback corgi, has been cared for by a foster owner who is a client of the vets. But the staff want to find him a permanent home.
Tauranga Vets managing director David McDonnell said Mr Rittey was considered an identity in the Otumoetai-Matua area and was noted for being barefoot in all weather.
His vintage Triumph estate car was also well known, especially at Fergusson Park, where Bosun enjoyed regular runs.
The plucky pooch was keeping up the tradition by hanging out with other dogs at the park yesterday.
Mr McDonnell said Mr Rittey was so concerned for Bosun's welfare that he phoned the vets before seeking medical treatment for his own problem.
He wanted to make sure his best mate was okay before he worried about himself.
Mr Rittey was also well known for his support of Guide Dogs for the Blind.
"Someone must have a place in their life for an excellent new friend," McDonnell said.
"We'll all miss his owner, but the sadness will be sweetened if we can find Bosun a mate.
"We know Bosun and can vouch that he is everything a faithful dog should be, so please get in touch with us if you think you can offer him a new loving owner."
Anyone interested in offering Bosun a new family is asked to contact Tauranga Vets on 07 578 4044.
Tauranga Vets is a full-service rural and companion animal veterinary practice located in Tauranga. It also has clinics in Katikati and Te Puna. Kiri Gillespie