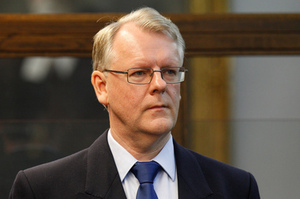 An osteopath has been found guilty of 15 of the two dozen sex and indecency charges he faced after a trial at the High Court in Wellington.
Richard Davis, 53, of Katikati, denied 11 counts of unlawful sexual connection and 13 counts of indecent assault in relation to the treatment of female patients at his Gisborne practice.
Ten women alleged Davis touched them inappropriately and in a sexual manner during treatment.
The sexual violations charges relate to allegations by some of the women that Davis performed invasive acts on them during treatment.
The trial before Justice David Collins in the High Court at Wellington lasted for two weeks.
The jury of seven women and five men retired to consider their decision about 11.30am yesterday.
In his summing up, Justice Collins told them the Crown's case was that Davis' behaviour showed a pattern of offending against the women.
All women said they were told by Davis that he was performing clinical treatments.
The Crown also said all the women were asked to remove their underwear or Davis removed them before sexually assaulting them, Justice Collins said.
The Crown also said techniques were not legitimate osteopathic techniques, he said.
The defence, however, said some patients were genuinely confused about his treatment, in some cases inappropriate touching was accidental and some complainants were wrong in their accusations, Justice Collins said.
The defence also said the patients were a random cross section of the community and the allegations didn't relate to a particular kind of person.
Justice Collins told the jury that if the complainant consented to what they believed was a legitimate clinical treatment, but the jury did not believe that treatment was legitimate, then they could conclude no consent was given.