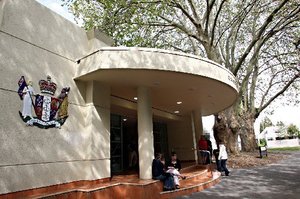 A Pyes Pa man, who stabbed a 37-year-old Greerton man multiple times in his neck with a small steak knife in an unprovoked attack, has been jailed for five years and 11 months.
Joshua Pratt-Keatley, 27, was sentenced in Tauranga District Court today after earlier pleading guilty to a charge of wounding with intent to wound and an unrelated assault charge.
The victim was stabbed near his Rewhiti St, Greerton property on the evening of June 5 this year as he walked home from a Greerton bar.
He was treated at Tauranga Hospital for 4-5 stab wounds to his neck, and also underwent surgery to repair stab wounds to a hand which occurred while trying to defends himself.
Pratt-Keatley told police he had believed the victim was the same person who had broken his daughter's bedroom window.