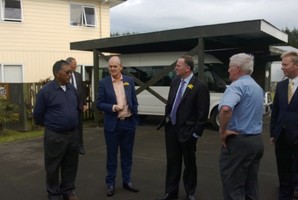 Prime Minister John Key has kicked off his day in Te Puke.
Mr Key is in Te Puke with fellow MPs Simon Bridges, Todd McClay and Tony Ryall.
He will be officially opening the redeveloped Te Puke New World supermarket before visiting the Destination Playground and Te Puke Library.
He will also be visiting Te Puke Intermediate this afternoon.
Update: 10.20am
Mr Key has visited Vincent House. He was taken on a tour through VIncent House and the residential facilities. He spoke with staff and management at Vincent House who put on a morning tea spread for the Prime Minister.
He is now making his way to New World supermarket.
10.40am
Mr Key is at the official opening of Te Puke's New World supermarket. Children from The Sandbox Preschool performed a waiata for Mr Key. Students from Fairhaven School also sung the National Anthem.
1.20pm
After formally opening the refurbished Te Puke library Mr Key spoke to reporters and had a lunch break. He is now on his way to Te Puke Intermediate.