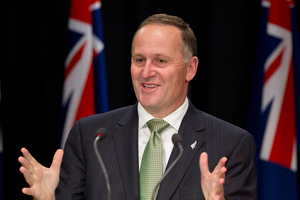 Te Puke locals will be treated to a visit by Prime Minister John Key tomorrow all going according to plan.
A National Party spokeswoman told the Bay of Plenty Times Mr Key planned to be in Te Puke about 8.30am or 9am on Friday but official confirmation would not be released until this morning.
New Zealand Kiwifruit Growers president Neil Trebilco said he was aware the PM was coming to the Bay of Plenty tomorrow but was unsure when, where or what for. "We know of his visit but we haven't been involved in it at all," he said. "I know that John does do this from time to time."
Mr Key's event adviser in Wellington said the PM's schedule could not be confirmed more than 24 hours in advance for "security reasons".
It is believed Mr Key will appear at Vincent House about 9am for a look around the hostel-workshops, for about an hour. Then he will visit the new New World on Jubilee Park.
From New World, it is rumoured, Mr Key will wander past the inter-generational playground, through the cultural courtyard and heritage walkway into Jellicoe St.
From the walkway beside Te Puke Jewellers, he will head along to Te Puke Library to check out the refurbishment and launch an open day. Lunch will be at a National Party gathering at The Orchard church in McLoughlin Drive. Tickets are for sale for that at the National MP's office, $25 a head.
After lunch, Mr Key will visit Te Puke Intermediate to meet the students and check out some newly set up learning areas.