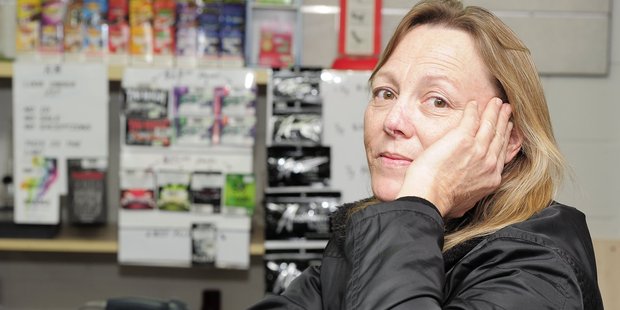 Western Bay of Plenty retailers granted licences to sell synthetic cannabis say recent backlash against the product is unjust, as business booms for those in the market.
On Wednesday night, the Ministry of Health announced that A Tease Adult Shop in Mount Maunganui, DVX Tauranga in Cameron Rd and Bamboo Barn in Katikati were granted licences.
Eleven retailers applied, including Puff 2 Go in Te Puke which was targeted in a community protest on Wednesday.
DVX Tauranga owner, who would be known only as Greg, said he understood why people were upset at the product but felt the amount of negative attention was unjust.
"In my point of view, there have been no deaths from it and how many deaths a year are there from alcohol, cigarettes, McDonalds, even Coca-Cola? But no one seems to be interested in that," he said
Greg began selling the product 12 months ago and had been busy with it since, he said.
However, Greg said he wasn't in it for the money.
"This stuff, from my observation, makes people calm. Alcohol makes them aggressive and that's the difference. That's why I sell it."
A Tease Adult Shop's Vanessa Gibson said business was booming with new faces in addition to her regulars and she supported new regulation.
Ms Gibson said she was not concerned at being targeted by criminals but certain measures, including a camera positioned on the store 24/7, were taken to better ensure security in light of the new licence.
Both stores were busy with countless purchases of synthetic cannabis yesterday.
Alvan Pearson, who received the Western Bay's only licence for wholesale, said he chose to apply because he wanted his business in the "smoking range" to continue. he buys synthetic cannabis in bulk and sells it on.
He was happy regulations mean it was not being sold in dairies, despite labelling the product as safe and "low impact".
The owner of Bamboo Barn declined to comment.
Puff n' Stuff in Cameron Rd was one of the applicants "under consideration".
Owner Mike Lawrence removed its bread and milk and said the wait for a licence was over clarification about a coffee machine in the store.
Another retailer said she applied only because her supplier paid the bill.
Each retailer said they were aware of dairies and other outlets continuing to sell the product despite the new law.
Inspector Karl Wright St-Clair said Western Bay of Plenty police were working with the Ministry of Health and Bay of Plenty District Health Board to monitor and investigate any information alleged breaches.
Anyone concerned at retailers selling the product without a licence can contact police on 07 577 4300 or 0800 Crime Stoppers.