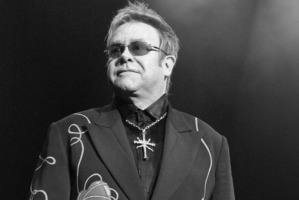 Even for an ageing baby boomer it doesn't seem like four decades since Elton John's sixth album became the breakthrough he'd been seeking since Reginald Dwight took on his alter ego Elton in 1967, and paired up with lyricist Bernie Taupin.
Goodbye Yellow Brick Road followed two reasonably successful albums in Madman Across the Water and Tumbleweed Connection but, for whatever reason, aside from the standout songs and performances, the music world decided that Elton John's time had arrived.
Bennie and the Jets, Candle in the Wind, Saturday Night's Alright for Fighting, the enigmatic instrumental Funeral for a Friend and, of course the title track, fleshed out to a double album of other John/Taupin masterpieces made 1973 a huge year for the album and for Elton John.
Fast forward 40 years and the record company has gone all-out to celebrate a milestone release in rock history. The super deluxe anniversary edition includes a remastered version of the double album, plus rare demo tracks and out-takes from the original sessions.
Also included is an album of covers by contemporary artists such as Miguel, Fall Out Boy, Emeli Sande and Ed Sheeran, plus a DVD of Elton's breathtaking 1973 live performance at London's Hammersmith Odeon.
Elton John fans are truly spoiled for choice with the depth and breadth of this repackaging the album. The music is as fresh today as it was back then.Tony Nielsen