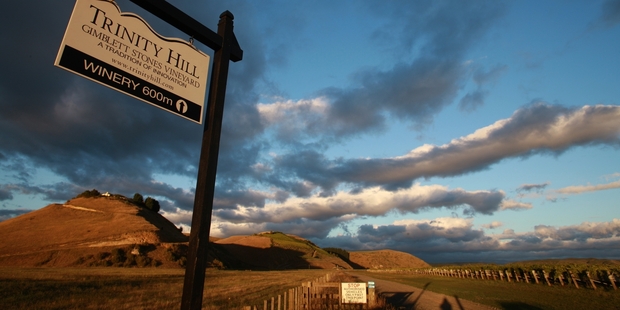 An email arrived recently from Michael Henley, CEO of Trinity Hill Wines. "Trinity Hill are releasing our 2012 Gimblett Gravels wines and I was wondering if you'd be interested in receiving some samples?"
"Save your samples," I wrote back, "I'm actually in Hawke's Bay right now and I'm happy to pop over and taste them on the spot."
"Excellent," he replied, "as well as tasting the 2012s, we can show you some barrel samples of the 2013 wines." Needless to say I was there before he could type "kind regards".
The year 2013 is being hailed as "the vintage of the century" for Hawke's Bay, "an absolute screamer", a vintage where all your wildest dreams could come true if you are a winemaker in the region.
Last year, I'd quizzed their winemaker Warren Gibson about whether Trinity Hill was still growing marsanne and, if so, what were they doing with it? Today was my chance to find out, as he poured the liquid drawn from the barrel.
"It's a marsanne-viognier blend," he said. "We don't have a lot of marsanne left in the Gimblett Gravels now, probably just a hectare or so, which is enough for us to play with. John (Hancock - Trinity Hill's President and Founder) planted marsanne back in 2007, but it's taken a while to get it up and running."
It had a gorgeous nose of pure white peach, dried herb and hay notes, lovely florals and a really interesting, slightly grainy texture, yet a clean, crisp palate feel. "It's 100 per cent hand picked, barrique-fermented with 100 per cent indigenous yeasts and it's really building nicely - so we'll leave bottling it until at least after harvest this year," said Gibson. Despite using 100 per cent wild yeasts, it's not funky, it's clean and pure and I can't wait to get my hands on a bottle.
Gibson then poured me tastes of what will end up as components of their White Label Hawke's Bay chardonnay and their Gimblett Gravels Black Label chardonnay from 2013, and I asked him what his feelings were about that vintage for that variety. "2013 wasn't super-warm, but it was very, very dry," he said. "I think it's a very strong chardonnay year, a 'bankers' chardonnay year - and they're going to be age-worthy, too. Chardonnay, syrah and the cabernet family for us are just stunning from 2013. Other than 2010 and 2007, it's probably the best vintage in the last eight years, but we'll see when the wines come out."
The 2013-chardonnay samples I tasted had a lovely acid line through them, real purity and great fruit concentration. "Controlled power," added Gibson.
"One day we'd like to come out with something really special that represents the very best chardonnay we can do - so we're trialling that now," Henley said, tapping his hand on a large hogshead barrel. "We tried to do one in 2011, but Warren chickened out, it's his call at the end of the day."
Next up was a syrah aged in stainless steel, "It's from our Gimblett Stones vineyard and made almost in a pinot noir style, meaning we tipped 100 per cent whole bunches into a 6-tonne, open-fermenter and foot-stomped them," explained Gibson. There was definitely a slight "stemmy" character and it had real grip in the mouth. "It's a very pure component that we'll almost certainly use in our Homage 2013," he said.
Then Gibson gave me a splash of another wine that'll end up in the 2013 Homage. "It's grown on our Hillside vineyard up behind the winery, and it's becoming seriously impressive, so if our aim with Homage is to produce the absolute best syrah we can, then more of this will be included. We just won't be able to call the wine 'Gimblett Gravels' because this fruit obviously isn't grown down there - but we're okay with that."
The last samples were core cabernet sauvignon and cabernet franc components of "The Gimblett" 2013. Aromatically they were outrageously pretty and palate-wise they were serious wines, with real density, concentration, chewiness and power.
However, what worries me is that with all the hype about 2013, people may overlook some absolutely lovely 2012 wines which are about to be released, and may still be on the shelves when the 2013s hit the market. It was a cooler vintage in 2012, with pesky rainy patches during the March-April harvest. This means it was a challenging season. But from what I've tasted so far, those who knew what they were doing, timed their picks well and didn't panic, have managed to craft some really nice wines.
"Our 2012s were all bottled prior to the 2013 harvest, which doesn't usually happen with our reds (to compare, Trinity Hill's 2013 reds wont be bottled until after the 2014 harvest), but that was just the vintage, it's what the wines wanted to do," said Henley. "Wines sometimes get overpowered from sitting in barrel for too long, and the 2012s didn't need it," Gibson added. "
"They were lighter in tannin structure, had nice elegance, good flavours and they were ready to be bottled. But for the 2013s it's like we just need to tame these beasts before bottling. Just because it's a dry, warmish harvest, you still have to think about how 'prepared' the wine is. I think a lot of people just chuck their wine into the bottle before it's really ready - and then there's no going back."
Gibson advised to be a little bit careful with the 2013s because there will be some big, chunky wines, which may or may not be as attractive to drinkers.
"With the whole 2013 'wow' thing, you just have to be aware that it did get quite dry and if you haven't managed your vineyard or your tannins very well in the winery, then there'll be some 2013 wines that you won't want to go near for years - or they may never come right." He's not wrong. Even in "hero" vintages like 1998 or 2002 - some producers took things too far, trying to extract too much from the fruit and the wines suffered because of it. "In vintages like that, if you knew what you were doing you'd be fine, but a long, hot, dry vintage is not the time to get greedy."
Trinity Hill Gimblett Gravels Chardonnay 2012 $35 This might be an oak-aged chardonnay fermented with 100 per cent wild yeasts and put through 100 per cent malolactic fermentation, but this is one heck of a super-fresh style. It possesses classic white peach and citrus characters, has a nice acid spine and layers of lovely, crisp texture on the finish. It's really refined and elegant. "It's a genuine expression of the fruit from a cooler vintage and I think this will develop really nicely over time in the bottle," says winemaker Warren Gibson.
Trinity Hill Gimblett Gravels Viognier 2012 $35 1/2I love viognier in all ways shapes and forms, but this example will definitely appeal to those who like those lifted peach, apricot and floral aromas but not the big, oily richness that this variety can often produce. This vintage has loads of crisp, fresh fruit, a more restrained feel and and lean, lithe, textural finish. It's darn nice.
Trinity Hill Gimblett Gravels Syrah 2012 $35 1/2 If you're after more than pepper in your syrah then you've come to the right place. With layers of spicy, biscuit notes with a floral edge and nice, tangy, red fruit flavours, this is deliciously drinkable yet very elegant. I like the soft, sandy tannins and solid persistence of flavour.
Trinity Hill "The Gimblett" 2012 $35 A smorgasbord of the best Bordeaux varieties that Warren Gibson can blend. This particular version is crafted from 39 per cent merlot, 35 per cent cabernet franc, 9 per cent cabernet sauvignon, 9 per cent petit verdot and 8 per cent malbec. Anyone claiming that 2012 wasn't a great vintage may eat their words when they sip this wine. Incredibly aromatic and bursting with strong spices, red rose notes, layers of dried herb and cocoa characters then finishing with finely tuned, elastic tannins.
All wines: www.trinityhill.com