A lick of paint, new handles and, hey presto, you have a whole new look.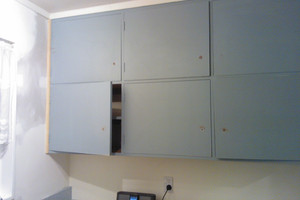 It is nice to hear from readers around the country enquiring about a product or wanting tips and hints. Is your kitchen looking a little tired and in need of tender loving care? Or have you just moved to a new home and you are ready to give that well-loved kitchen a makeover?
Are you unsure whether the existing colour is white or another colour, but it looks so tired and grubby it is hard to tell? Whatever the case, you feel you are in need of a change. Where you start and how far you take the project will depend on the condition of the kitchen and how well it works for you.
If you can't afford to renew the complete kitchen, you do have options for a spruce-up. If the cupboard doors are in good condition, a lick of paint makes a huge difference. Changing handles also improves the look of a kitchen immensely. I've had clients who have kitchens that were built in the 80s with chunky, plastic handles and, when we fitted something more streamlined, it changed the kitchen completely. Changing your benchtop may be another option to consider, depending on what type you have and how the kitchen has been constructed.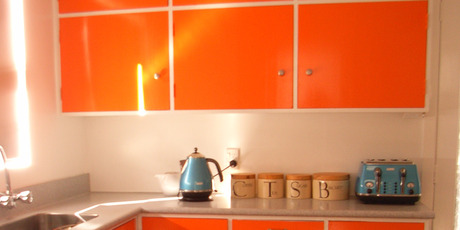 Once you have decided on your colour options, and which surfaces you want to freshen up or replace, you need a plan of attack.
The ceiling is a good place to start. There is no point in painting the walls and then the ceiling. If you're like me, you'll end up with splatters all over the walls.
Always use good drop sheets, old bed sheets don't quite stop the paint seeping through, but thermo drapes you no longer need work well.
Clean the ceiling and walls thoroughly with a good paint cleaner. Cooking residue will have collected over the years or the paint may have discoloured. Once the surface has been cleaned, rinse off the residue with clean water to remove any trace of chemicals.
The cleaner may have taken off the surface paint as well so you already have a good surface to paint. If not, you will need to sand the surface area. Fill any defects such as nail holes with filler. Make sure you choose the correct sandpaper for the job at hand. There is nothing worse than creating scratches on the paint finish that look like textured wallpaper when you wanted a smooth surface. Next, the walls will need to be sealed with a sealer.
A general rule of thumb is if you're using an oil-based top coat, use a water-based sealer or, if you're using a water-based topcoat, use an oil-based sealer. Usually, one coat of sealer will be sufficient, followed by two top coats of your finishing paint.
Three may be required if the colour has poor coverage or is dark.
Make sure you have chosen the right paint for the area. Some paint companies provide certain paints for different areas.
There would be nothing worse than finding out a couple of weeks later that the paint won't stand up to the steam or the cleaning in the kitchen, or the paint is simply chipping off because you have used the wrong preparation paints.
If you are at all in doubt, check with your preferred paint company for its recommendations.
*Terry Lobb is an interior/kitchen designer and personal colour and style consultant who takes a holistic approach to living with colour, texture and style - email: terry@terrylobb.com; website: terrylobb.com