Overcoming the tattooist stereotype. Female tattoo artists make their mark
Realism, watercolour, neo-traditional: terms reserved for the biggest and most prestigious art galleries are now commonplace in the tattoo studios around the world.
Tattoos are increasingly considered a work of art, with techniques rapidly developing to match the skill and creativity of the artist.
With a rise in public awareness, thanks to events such as the NZ International Tattoo & Art Expo in Tauranga on February 18-19, there has also been an increase in talented female artists rising through the ranks, who are bringing a new perspective to the art form.
Skye Carson-Wilson
Electric Soul Tattoo & Gallery
A butterfly tattoo inked on her hip was where Skye's passion for tattoo art began. Twenty-one years old, the Bay of Plenty artist had a portfolio full of paintings and liked the idea of creating her works on a new medium.
"After getting my own tattoo, it didn't hurt as much as I expected, so thought maybe it wouldn't be too bad inflicting that pain on others!" she says with a laugh.
Seeking an apprenticeship, she says being female worked in her favour as the studio owner had been through a bad run of apprenticeships with teenage boys.
"I was a bit more mature and lacking that attitude some teenage boys can have, so he took me on."
However the apprenticeship was short lived, as the studio closed, but Skye kept an eye on the industry, all the while developing her artistic craft. Then recession hit.
"No one was buying art," she says. "That's when I really looked into tattoo artistry - no one had money to buy art, but people still had money to get tattoos, so I thought, 'Why not merge the two together'?"
She once again sought out the studio at a new location, and committed herself day and night to getting up to speed.
"He was constantly challenging me, which I loved. I was working late and weekends, and it was a real struggle at the start, but it's the only way I wanted to do it."
The perception of tattoos, at the time, Skye describes as relatively conservative, with clients seeking more to replicate current trends than stand out from the crowd.
Now people are looking to be different - they don't want a tattoo they saw on the internet or one their friend has. They are looking for custom pieces, which as an artist you love to do.

SHARE THIS QUOTE:
Conservativeness extended to the industry itself also.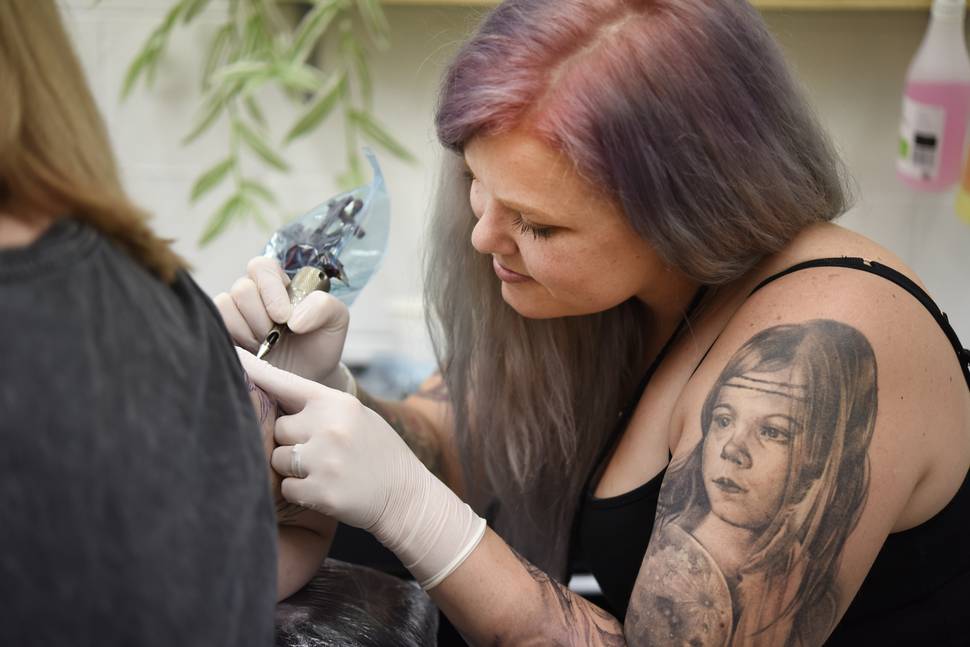 Where once there was a 'right and wrong' way to tattoo, a greater freedom has come from shared ideas and the arrival of the "new generation" of tattoo artists - including an increase in women.
"You go to an expo now and there is a 50-50 split, male and females. It wasn't like that six years ago.
"I used to struggle to show off new work because you would be told 'That can't be done' or 'We don't do it like that'. Now, there are almost no limits to what you can create, and I think a lot of that comes from the sharing of ideas and experience between artists."
Kirky Maree Donnelly
Electric Soul Tattoo & Gallery
Ask Kirky to name the most memorable tattoo she has created, and for her it's more about the person than the artwork.
"I remember my first one and I had this feeling of, 'I can't believe that person let me into their space.' It's such an honour.
"Particularly with sentimental or memorial pieces - this person trusts you enough to be like, 'Here is something that is special to me and I'm willing to sit with you for hours and tell you about it.' You feel like you become part of their lives."
Having been through a bad tattoo experience with her own first - which was administered as an 'initiation' during her first apprenticeship - Kirky says it has "made me want to be kind to every single person that comes in the door".
Like Skye, Kirky began as a painter and drawer, but exploring tattoo artistry was always in the back of her mind. It wasn't until she showed her work to a fellow tattoo artist that her passion was fully ignited.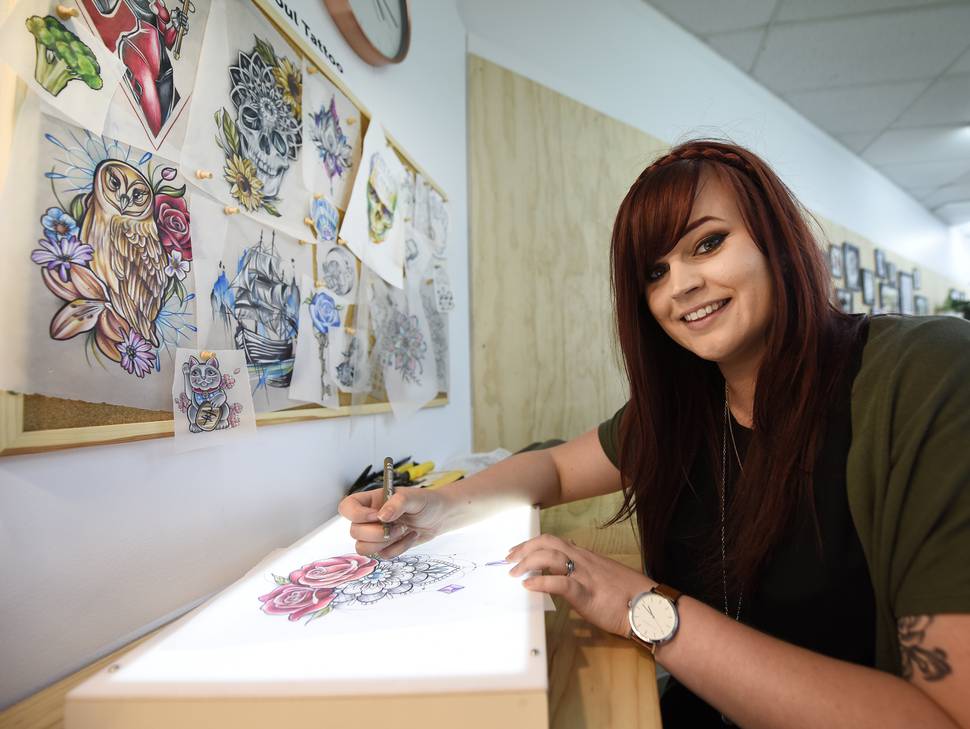 "When someone told me I was capable I was like, 'Right, I want this now.' Someone opened the door for me, and then I had to go through and find who would teach me."
While her apprenticeships as a young, up-and-coming artist were a "hectic time", she credits her biggest development to local tattooist Alan 'Spud' Pudney, who has been putting needle to skin for more than 20 years.
"A year into fulltime work, he came in and said, 'Do you mind if I watch? I don't know how you are doing that.' I thought my head would explode I was so honoured! He didn't have an ego to be like, 'You're a junior, what do you know?' and that was really important to me."
The supportive and collaborative environment of current industry is what Kirky loves, and says it is an essential part developing a bigger and better appreciation for tattoo art.
"Tattooing is something you never stop learning. You have your favourite artists and are inspired by the people you surround yourself with, so it is ever-changing."
Emma Kerr
Bohemian Tattoo Arts
Relocating from Napier to Tauranga 18 months ago, Emma is the only female tattoo artist at Bohemian Tattoo Arts - something she says is mostly a huge positive.
"To be the only female in the shop is a real selling point, as I can offer something different to the guys," she says.
"That said, I think I can get cornered into 'pretty' because I work with a lot of colour and flowers, that sort of thing. But that's the clients' perception, and it is what I do and what I showcase on social media, so naturally I get sought out for it. I wouldn't mind doing a sleeve of skulls or something every now and again though!"
A fine arts graduate, Emma's foray into tattoo art began at just 16 years old, where she would hang out at a local tattoo studio, but feeling like she "didn't fit the stereotype", her interest was deterred.
It was pretty rough - I don't think my mum would have liked me going there! I was so intimidated, so just sat there and drew. I think I did it for just a week.

SHARE THIS QUOTE:
Her career ambitions were derailed until she studied art (in all forms) at Eastern Institute of Technology (EIT) in the Hawke's Bay.
"It took me a while to stop worrying what people thought about me wanting to become a tattoo artist because there was still a stigma around it at the time. I just needed to find the right people who would support me and by my final year I thought, 'I'm doing it'."
Emma has now been in the industry for three years and says every day is a journey to becoming a better and more versatile artist, as well as a more confident one.
"I took a huge step forward when I began working at Bohemian Tattoo Arts. I don't know if that was because I felt I needed to prove myself or because I was working with such established colleagues, but that's when I improved professionally and personally the most. When I first started tattooing, I was so nervous and it was a hard road for me to overcome my nerves.
"I think that it helps to have had hugely supportive employers, and when I have had moments of 'female emotion' they were able to really help me through."