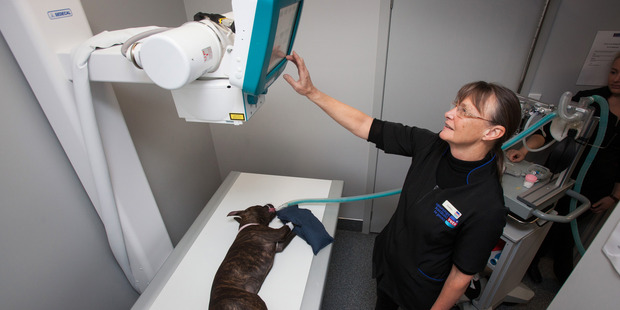 Tauranga Veterinary Services has invested more than $100,000 in opening a new Papamoa Village Vets clinic this month - its fourth in the Bay of Plenty.
Owner David McDonnell has also recently replaced the animal x-ray machine at its Cameron Rd clinic with a top-of-the-line digital version.
The moves reflected the practice's belief that business confidence was buoyant across the Bay, said Dr McDonnell.
"We think people are used to the paradigm of how the economy has been for the past three or four years and are more confident, and we're feeling that across the business," he said.
The new clinic, near Fashion Island, opposite Mitre 10, has created employment opportunities for two veterinary nurses who will be based in Papamoa, along with veterinarian Anne Shilston, who has been with the practice for 18 months. The business also has clinics in Katikati and Te Puna.
"Papamoa is alive and buzzing, and has a confidence and positivity that has been lifting the area for some time now," said Dr McDonnell. "It was the right time to get a footprint on the Papamoa/Mount Maunganui side."
Dr McDonnell said the area around Fashion Island was changing, with more service-oriented businesses setting up, and he believed it would grow as a shopping destination.
"And as more and more people move into the area, they bring their pets with them. It makes good business sense to be there."
He said the clinic would focus on providing care to companion animals, but was also aiming to serve lifestyle block and farming clients who lived in Welcome Bay or outlying rural areas. The Tauranga clinic is open seven days to cater to pet owners who cannot fit appointments around their work commitments and the new Papamoa clinic is open six days a week, including Saturday mornings.
The clinic launch comes just weeks after Tauranga Veterinary Services replaced an older, conventional x-ray machine with a new digital x-ray machine at its Cameron Rd clinic. Animals, which were anaesthetised during the x-rays, were now "under" for less time and shorter anaesthetic times were important for patient safety, said Dr Kate Heller.
"Tauranga as a city is growing and developing, and we have kept pace by developing a centre of excellence at our Cameron Rd clinic that also serves as a back-up specialist support clinic to our other branches," said Dr McDonnell.