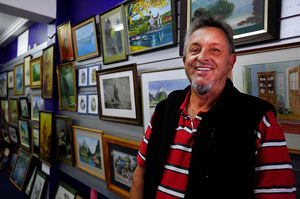 My interest is not the bottom line but to let people appreciate what I have put together.Graeme Somerville, Hung Well Art and MirrorsA semi-retired car wrecker who spent 18 months buying old pictures and mirrors at Glasgow Auctions has turned his new-found love of art into a way to liven up Tauranga's downtown.
Graeme Somerville has opened a gallery of "ancient pre-loved art" after deciding he needed a hobby.
His mother had died and rather than plough money from her estate into his life-long interest in hot rods and old American cars, he decided to try something completely different.
"I became known as the chap who would buy anything that hung on a wall," he said of his weekly bidding forays to Glasgow Auctions.
"When I started, I did not know anything about art and I still know very little."
Friends were astonished when he confessed to having never even heard of well-known artists.
It did not take long before his house was full of art and finding space for 600 pieces had become a real headache.
Mr Somerville then hit on the brainwave of brightening up the downtown by leasing one of the empty shops on Devonport Rd.
He negotiated a good deal for a council-owned shop by arguing that he was filling a gap in the retail frontage - after all, empty shops did not give the impression the town was open and being looked after.
"That was one of the reasons I did it ... now here I am in all my glory," he said with obvious pride at his collection called Hung Well Art and Mirrors.
Everything is for sale although there are no price tags. Mr Somerville said people had told him it was a mistake not to show prices but he was adamant he did not want the gallery to look like a garage sale.
"It would make it look like I was desperate to sell at giveaway prices."
Instead, if someone showed an interest in an artwork, he looked up what he paid for it and the discussion went from there.
"If we agree on a price, all and well."
His enthusiasm for art remains untarnished 18 months after first stepping into the Glasgow St auction rooms. "I am fascinated by how an artist can draw a scene that is so real."
His biggest coup was when, almost alone among sceptics, he secured two works by famous colonial New Zealand artist Charles Blomfield and one painting by Blomfield's sister.
Everyone else assumed they were prints or copies but he took a punt and got them for a bargain which he immediately turned into a healthy wad of cash when an Auckland art dealer was satisfied they were the real thing.
Mr Somerville does not consider himself an arty person who imposes his tastes on others and is delighted to have met so many nice people since opening the gallery two months ago.
"My interest is not the bottom line but to let people appreciate what I have put together."
The slightly saucy name for his gallery derived from his original idea of "hang it".
A friend jokingly suggested "well hung" which he liked but toned down to "hung well".
Mr Somerville said he moved to live in Tauranga four years ago because he was tired of Auckland and had friends here.