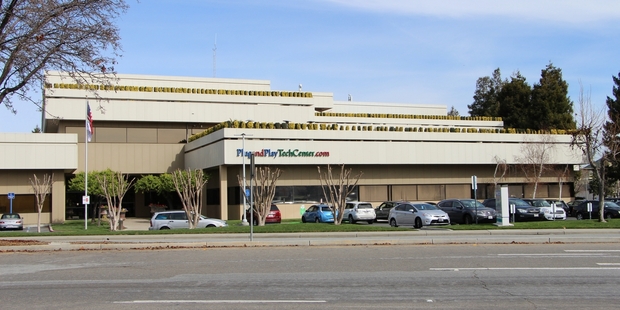 Tauranga hi-tech entrepreneur Peter Wren-Hilton today announced an agreement with Silicon Valley's biggest IT start-up accelerator, Plug And Play International, to set up an incubator in Tauranga.
The venture will help New Zealand start-ups create a global presence by connecting them to US-based venture capital funds, international corporate investors and networks to commercialise their intellectual property, said Mr Wren-Hilton.
"I always saw Silicon Valley as being a very natural route to start creating a global footprint for New Zealand tech companies," he said. "I think the fact that we are setting it up in Tauranga with direct connections to Silicon Valley will help the city promote itself as a being a centre for innovation and technology."
Mr Wren-Hilton got to know Plug and Play as a result of being based for half of each year since 2011 at the Plug and Play Tech Centre in Sunnyvale, California, with his company Pingar (see story below).
Andrew Coker, CEO of Priority One, which is working closely with Mr Wren-Hilton on the incubator's set-up, said it was "a major coup" for Tauranga and for early-stage technology companies in New Zealand.
"It will put Tauranga centre stage as a hot-spot for innovative businesses with strong growth potential, as well as providing to those companies access to expertise, venture capital and, importantly, overseas markets."
The venture will be called the Wharf42 Plug and Play Technology Incubator, and will be based in the central city.
Plug and Play's Sunnyvale campus is home to more than 300 global start-ups, has raised more than $1 billion ($1.97 billion) since it was founded in 2007 and was an early investor in successful global companies including Paypal, Dropbox, Zeus and Lending Club.
Wharf 42 was originally set up two years ago, but was put on hold as Mr Wren-Hilton continued to develop Pingar in Silicon Valley.
While remaining a core investor in Pingar, he has now stepped down from an active management role and will be focusing on Wharf 42. Plug and Play founder and chief executive Saeed Amidi has been appointed to the advisory board of Wharf 42. "We are keen to work with Wharf42 to provide mentorship and funding as well as introductions to Plug and Play's global community of corporate investor partners to help convert world-class research and innovation into world-class businesses," Mr Amidi said.
Mr Wren-Hilton said the incubator would work with New Zealand universities, Crown research institutes, and private sector entrepreneurs to identify IP-based ideas or technology.
"The intention is not to compete with existing incubators and accelerators in New Zealand, but to work with them," he said, noting the strong network of angel investors that has been built up in Tauranga through Enterprise Angels.
Executive director of Enterprise Angels Bill Murphy said he welcomed anyone who could help build a bridge between Tauranga and Silicon Valley.
"Someone who has been through that experience with his own company, like Peter, can come back and add value with other entrepreneurs," he said.
Added Priority One's Andrew Coker: "We can expect to see an increasing number of technology businesses, and the skilled people they need, move to the Western Bay of Plenty as a consequence."