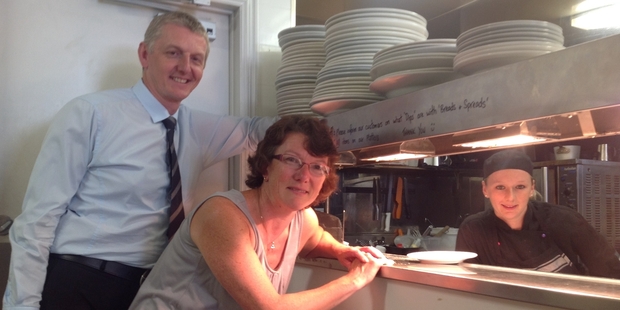 A Tauranga couple has gone from running a pharmacy to owning a bar.
Ian and Lesley Settle have bought Greer's Gastro Bar in Greerton from Nancy and Jack Hogg.
The Hoggs handed over the keys this week, only months after they sold the high-profile Bravo Restaurant and Cafe.
It was a new venture for the Settles, who previously ran two local pharmacies for about 10 years.
Mr Settle said their businesses, the Racecourse Pharmacy and Chadwick Pharmacy, sold about 18 months ago.
The new business venture was a family affair.
The couple's 20-year-old daughter, Laura, had also come on board as one of the chefs.
"Laura will also act as part-time maitre'd as required, and her partner Rhys Middleton is bar manager.
"We have a very good team, including our well known head chef Kale Guy."
Mr Settle said he and his wife were well known in the Greerton community and had done their homework.
"Lesley and I had been looking around for another business opportunity for up to six months and when we learned that Jack and Nancy wanted to sell, we did not need to look much further afield.
"We had been regular customers ever since the bar opened so we have done all our market research really well and knew exactly what we were getting ourselves into. It's been a very amicable and smooth changeover process."
Mr Settle said while there would be some decor freshening and minor tweaking of the menu, no major changes were planned and they would be retaining the bar's name.
However, addressing the acoustics was a priority because the bar could be quite noisy at times, he said.
"We want to build up the family-friendly atmosphere as for many Greerton families, Greer's is their regular haunt."
Mr Settle said his wife, who is a qualified pharmacist, would continue to work as an on-call locum pharmacist around the district and he would retain his job as a sales agent at Crockford Real Estate firm.
The Hoggs sold Bravo Restaurant and Cafe last year to Ryan Gregorash and Jeni Fountain.