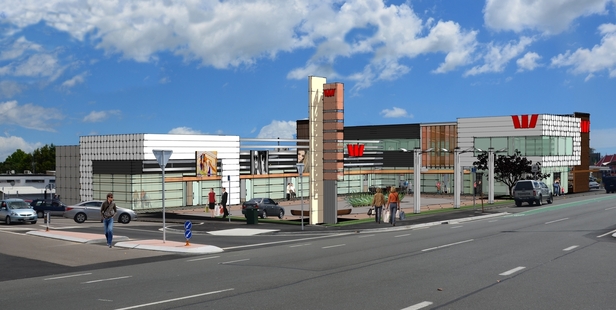 Westpac has announced it will invest at least $1 million into a new development in Tauranga to create a super branch on Cameron Rd and establish a Help Station in the CBD within the next 18 months.
"Cameron Rd has become a significant hub for our business customers so it made sense to look for a development site in that area," said Westpac regional business manager Steve Atkinson.
Westpac's new location will be at 575 Cameron Rd, close to 11th Ave, and near BNZ, at 639 and ASB at 610. Mr Atkinson, said the planned investment reflected Westpac's recognition of the evolving shape of Tauranga's business district.
"We expect it will be a stunning space for both our staff and customers with ample parking for 24/7 banking," he said.
"In terms of business, all of our bankers will be there under one roof - there'll be a boardroom, offices for customers to use for business meetings, as well as a greater level of customer service."
Westpac will be the anchor tenant at the 2000sq m new building, which is due for completion in June 2015.
The building will be called the Westpac Centre and will be home to Westpac's retail and business banking teams.
In addition, Westpac will be opening a new Help Station in the CBD next year, bringing round-the-clock capability and other benefits to the retail heart of the city.
The new Help Station will be on Devonport Rd and, like the Cameron Rd site, will provide a new 24/7 experience for customers.
A Help Station is a relatively new concept in banking where customers can access iPads and laptops to do their banking online or use Smart ATMs to deposit cheques and cash. Staff will also be available to help customers with products and advice. Westpac has two other Help Stations nationally - Silverdale in Auckland and St Martins in Christchurch.
"Customers expect to be able to do their banking when it suits them. Having both a 24/7 service in the CBD and on Cameron Road will meet those needs," he said.
"We're trying to service our customers the way our customers are telling us they want to be serviced."
Yuh Shan Holdings, a Tauranga-owned property investment company, collaborated with Veros Property Partners, Westpac and FDA architecture to design the proposed new building.
Recognised as one of the best positioned sites in the Cameron Rd 11th Ave precinct, the development has great profile to Cameron Rd.
Mr Atkinson said Westpac was still working through whether the existing Devonport Rd branch would become the site of the new Help Station.