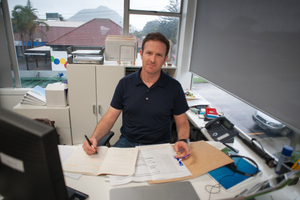 Mount Maunganui-based industrial design company Locus Research has been turning bright ideas into marketable products for more than a decade.
Last week the firm's process for taking a concept to a commercial product paid off for Delloch Limited, founded by Tauranga paramedic Sean O'Connor, when the company secured a contract with Auckland's Middlemore Hospital for its HipFit underwear, designed to protect elderly people from hip injuries.
"Middlemore Hospital is going to be using our product shortly and we are hoping that use of the HipFit will spread through New Zealand and abroad," said Mr O'Connor.
"Without the documentation and the research done by Locus Research, there is no way that would have happened."
Started by managing director Tim Allen in a room of his flat in 2002, the Locus Research team now has a range of established clients across the primary, high tech, consumer goods, health and sports categories.
"Our clients can range from garage entrepreneurs to global corporates," said programme director Blythe Rees-Jones, who attended design school in Wellington with Mr Allen and joined when the firm was in startup mode. "A lot of people have bright ideas - the challenge is being able to creatively turn that into value and figuring out how you turn the idea into a robust product and business."
The process with Delloch Limited ran to almost two years, from original concept to launching in the marketplace about 18 months ago. Since then the product has won awards, but the Middlemore contract was a significant commercial breakthrough, said Mr O'Connor.
"The idea is the easy bit," he said. "Locus Research did the research into the product, the manufacturing process, pretty much every facet from conceptual to testing different products on different surfaces and fully understanding the marketplace.
"And the research is hugely important with a medical product because you have to show evidence that a product has been fully tested and considered."
Mr Allen said research was definitely an area the firm considered important.
"You can be as creative as you like, but unless it is linked up to something it is difficult to develop products for the commercial market," he said.
"In particular products that have to go to export markets because the requirements of export customers are much more demanding."
Some of the other products Locus Research has designed include the Curve Surf range of surf gear travel luggage, the Cortex exterior house cladding system for Pacific Wood Products, the Getsorted home storage systems for International Merchants, and Encircle Merino Compression Therapy for The Merino Company, aimed at relieving cardiovascular-related conditions in legs and the upper body. Encircle won the United States' Medical Design and Excellence Award.