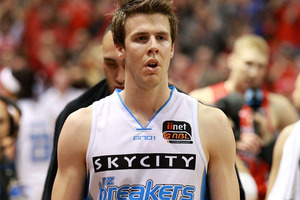 An offseason filled with equal parts promise and frustration illuminated one thing to Tom Abercrombie - he may have to make some changes to realise his American dream.
Abercrombie spent much of his offseason in the United States, first at various teams' mini-camps then in the Summer League, and his experiences made clear what was required to crack the bright lights of the NBA.
He didn't see much ball at the mini-camps and he struggled for court time in Las Vegas, with both situations as well-stocked as the Breakers' trophy cabinet when it came to players of his athleticism and ability.
The 26-year-old was particularly discouraged by his time spent riding the bench with Phoenix in the Summer League, so much so that he is unlikely to pursue that particular avenue again.
But there are other ways to crack the NBA, and Abercrombie knows what he can do to improve his product before putting himself back in the shop window.
After playing as a swingman for most of his career - swinging between shooting guard and small forward - Abercrombie found himself in the no-man's land in America. Under-sized among a group of forwards that were anything but small and lacking the ball-handling skills of the full-time guards, the Tall Black was left with an ultimatum.
"In [the Australian NBL] you know you can get away with a lot of that stuff, because most the time I'm more athletic than the guys I'm coming up against,'' he said. ``Over there, there's some pretty impressive athletes and some of the advantages you have here and some of those things you get away with, you can't get away with over there.
"For myself to be successful at that level I need to either get a lot stronger if I'm going to play that three-spot, or else work a lot more of playing the shooting guard spot and become more comfortable with the ball in hand and bringing the ball up the court.
"It's something I'm always trying to work on, ball-handling. It's never been my greatest strength but I guess that just highlighted it a bit more and gives my something to work on.''
With the Breakers relatively blessed in the two-guard position - Corey Webster is pushing Daryl Corletto for his starting spot and CJ Bruton will continue to contribute off the bench - Abercrombie will remain a swingman this season at least.
But the Breakers are always aware of developing their players, especially Kiwi talent, and the club will undoubtedly do their utmost to help Abercrombie achieve his aims.
While that is unlikely to include another stint in the Summer League, Abercrombie instead has his eye on another opportunity to impress.
"I don't think I'll go through the Summer League route again but there's other ways of things happening,'' he said. ``The world champs next year is a great opportunity.
"So, in terms of the NBA stuff, that's what I'm focusing on now - just playing well at the world champs and seeing what happens. If something comes out of that, it does, and if it doesn't then I'm happy that I've gone over there and given it a shot.''
- APNZ