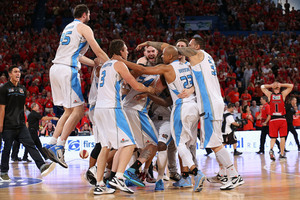 The Breakers could lose their coach, their best player and one of their leaders for next season - but they will still be well-placed to chase a record-breaking fourth straight title.
Dillon Boucher has retired from basketball after yesterday's championship as one of New Zealand sport's great winners, Cedric Jackson has a real chance of returning to the NBA, and Andrej Lemanis could be appointed Australian coach in the coming days.
But losing key members of their side is nothing new for the Breakers. The basketball community doubted they could overcome the loss of Kirk Penney following their first championship. The same was said when influential import Gary Wilkinson was allowed to leave the club after last season.
Both departures are now a distant memory and, while there is no doubting the impact Boucher, Jackson and Lemanis provide, the Breakers are unlikely to miss a beat.
Boucher will remain at Atlas Place as a corporate sales manager and, having said he would find it hard to stay away from the court, his nous and leadership will not be lost.
Jackson was the league's best player by some distance this season, but his potential move to the NBA would be a double-edged sword. After all, it would not be difficult to recruit another high-calibre point guard if the previous import used the club as a stepping stone to the best league in the world.
And the Breakers have a solid succession plan to account for losing Lemanis, with assistant Dean Vickerman almost certain to step into the role and ensure a smooth transition.
"I think we're faced with the same challenge we're always faced with about guys moving on," said general manager Richard Clarke. "They said we couldn't win without Kirk Penney and they said we couldn't win without Gary Wilkinson. The reason that we invest so heavily in our academy is so those guys come through."
The Breakers have the core of their squad locked down, with only Boucher and the two imports off contract. American Will Hudson is a near certainty to return, while the club have a ready-made replacement for Boucher in Reuben Te Rangi. The 18-year-old caught the eye with a slick 13 points in 10 minutes during a win over Melbourne in March, showing he was more than capable of playing at this level.
"It's a decision we still have to make but [Te Rangi] is in a great position to [take Boucher's roster spot]," Clarke said.
Another option was former development player Isaac Fotu, who was been playing college basketball with the University of Hawaii.
"We're also talking to Isaac about whether he's ready to have a shot at professional ball after his time in Hawaii," Clarke said. "We've got some great kids out there that are playing well in different areas so it's just understanding where they're at."
That wealth of young talent owes much to the vision the Breakers set out as a last-placed side eight years ago: to become a basketball dynasty which was as sustainable as it was successful.
"Three in a row puts you a long way toward that," Clarke said. "The three-peat was done with six guys who had played in all three campaigns. It's full of guys that have come through our academy and development ranks.
"We had four guys sitting on the bench tonight, our development players, who can carry it forward. They've shown already that they can play. All of that adds up to a pretty satisfying result."
Several players said following the victory over Perth that the club had nothing left to prove and, for a different group, motivation could be a factor next season. But not for these Breakers.
"The way the club's run from the top to the bottom," said shooting guard Daryl Corletto, "everyone's held accountable and everyone strives for the same thing - a championship. You just have to see the enjoyment in here tonight."
Famed American coach Pat Riley coined a concept called the 'disease of more', which states that title-winning players return the following season wanting more playing time, more shots and more money.
That has been no problem for the Breakers for the last two seasons, and Lemanis thought nothing would change in that regard next year.
"We truly play as a group and everyone just does what they need to do to help the team," he said.
- APNZ