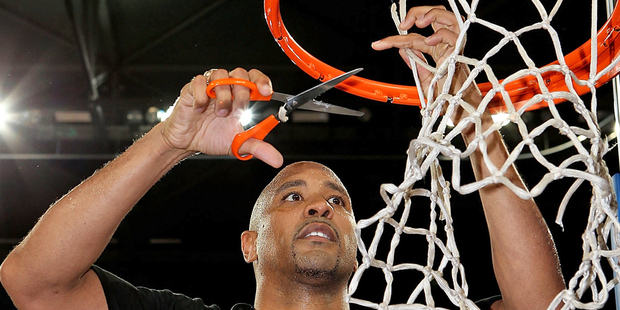 Another year, another championship, another defining contribution from CJ Bruton.
Big plays from Bruton in championship games are the rule rather than an exception, but today's performance in the Breakers' 70-66 win in Perth took on extra significance thanks to Bruton's mum and dad.
The veteran Australian held his nerve to drain two clutch free throws with nine seconds on the clock, belying a regular season success rate of 71 per cent from the stripe and sealing the Breakers' third straight championship.
The Wildcats had closed within two and were threatening to send the series back to Auckland before Bruton stepped up and atoned for a potentially game-winning miss in a similar situation in last year's grand final.
That failure in the final seconds in the same city, when Shawn Redhage's block saw the series go three games, was an aberration. It is much more familiar to watch Bruton drain four triples in a title-winning game, as he did in this morning's game-high 16-point haul.
But those long-range efforts were nothing compared to his heroics from 15 feet.
Bruton revealed after the game his motivation for making those two free throws was one to which most can relate - he didn't want to disappoint his mum.
"In game one, when I missed four three throws and I only made two, my mum called me and was chewing me out,'' Bruton said. "I pretty much had the phone away from my ear.
"I wanted to make sure that I closed this out right. She was happy and we're all happy.
"My free throw percentage hasn't been great this year but I really don't care about that - I only needed those two. Those two went in.''
Both Bruton's mum and dad, Australian NBL great Cal Bruton, were in the building to watch their son earn a record-equalling sixth ANBL title, an occasion which couldn't have come in a more fitting venue.
A young Bruton watched as his father, recruited as player coach of the Wildcats in 1986, built a championship calibre team to kick-start Perth's incredible stretch of 27 straight postseason appearances. Bruton almost had a fairytale finish in the final game in Cal's old gym last year, but this season's success in the new Perth Arena more than made up for that disappointment.
"I wasn't too gutted [last season] because I had the last shot at the stadium where my dad helped the team become what they are,'' he said.
"But I got a chance to make amends and I wasn't letting this one slip.''
That attitude is part of the reason why coach Andrej Lemanis said Bruton would always be "a very special person in my heart''.
"He completely understands what it takes for teams to win,'' Lemanis said. "He's the ultimate in being able to connect with his teammates. He can have a conversation with Reuben Te Rangi - the youngest guy on the team - and speak to him in a language that I'm not quite sure what's going on, and then he can have a conversation with Dillon (Boucher) - the oldest guy on the team - and again they can communicate.
"I'm just blessed to have a player like CJ on our group, because it makes coaching so much easier when he's such a leader within the team.''
Bruton will continue to lead the Breakers for another year, the final on his contract. When asked by Lemanis during the post-game press conference how old he was, Bruton replied, "old'', but don't bet against the 37-year-old snatching a record-breaking seventh title next season.
"I don't know how long,'' Bruton said of his playing future. "But all I know is I enjoy the moment, I enjoy the camaraderie with the guys.
"It's just been special but this is all about the Breakers - this is not about Bruton.''
- APNZ