Lemanis and Pledger expect final series to be different ball game to previous clashes.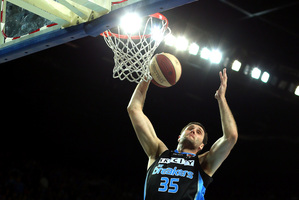 For two sides so evenly matched, it seems anomalous the Breakers and Perth have played out four very one-sided games this season.
It is against that backdrop that the two teams play out this season's best-of-three grand final series, starting with Sunday's first at Vector Arena.
Perth won the opening game of the season 93-72 in Auckland and followed it up in November with an 89-64 demolition of the Breakers in Perth. The Breakers responded with a comfortable 98-81 defeat of the Wildcats at Vector Arena in February before Perth thumped the Breakers 73-58 in last month's final regular game of the season.
That's an average winning margin in all four games of 19.5 points.
The Breakers are a confident bunch after winning the last two ANBL titles and are unconcerned about their record against their great rivals this season.
"The regular season counts for nought," Lemanis told reporters after his side's 2-0 win over Sydney in the semifinals. "Right now it's the first to two."
It's a sentiment echoed by centre Alex Pledger.
"We're not really concerned," said Pledger, who chimed in with 18 points and 12 rebounds in the 99-88 win over Sydney on Monday. "You would like to have a couple more wins against them but we played them twice early. We were still trying to find our feet back then. Players were playing different roles and Tom [Abercrombie] was still trying to get his foot back together [after a serious ankle injury].
"We were a completely different team to what we are now. We beat them pretty handily at Vector last time they played here and it will be 0-0 come playoff time."
The grand final match-up is the one most predicted and some even suggested cheekily the league should have ended earlier so the two best sides could battle it out in a seven-game series like it's done in the NBA.
The Breakers go into Sunday's first game injury-free but Perth will be missing Damian Martin, after the influential guard partially tore an Achilles tendon in their game-two overtime defeat of Wollongong. It is a big blow to the Wildcats considering Martin last week was named the league's defensive player of the year for the third-straight season.
They will still go in with great form, having won 11 of their last 12 but the Breakers have won 18 of their last 19.
The numbers are close, just like the finals series should be.


Final series
Game one: Sunday, April 7, 4pm, Vector Arena
Game two: Friday, April 12, 7.30pm, Perth Arena
Game three*: Thursday, April 18, 7.30pm, Vector Arena
*If required
- APNZ