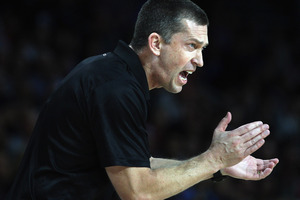 The Breakers might have some of the best athletes in the ANBL but coach Andrej Lemanis is more concerned about their mindsets heading into the first game of the playoffs against Sydney tomorrow night.
Playoffs intensity has caught his side out in the past, and over the last two seasons they have lost the first game of the post-season even though they went in as minor premiers and favourites. It put them on the back foot, and forced them to go to Perth and then Townsville to force it to a decider.
Of course, the story on both occasion turned out well with the Breakers winning the title but they don't want to put undue pressure on themselves this time around.
"There's no secret we have dropped the first game the last two years,'' Lemanis said.
"That's something we are aware of but it doesn't affect the way we prepare. We have to come out with the right mindset, play well and give ourselves a chance to win.''
They looked lacklustre in their 73-58 defeat in Perth last weekend, which brought to an end their 16-game winning streak, but they are a confident outfit who expect to win if they play well.
Sydney will fancy their chances against the Breakers in the three-game series. They beat them in one of their four games this season and lost two others narrowly, including one when Mika Vukona nailed a three-pointer on the buzzer.
It is the first time the Kings have reached the playoffs since re-entering the league in 2010 and the winners of the series will take on either Perth or Wollongong in the grand final series.
The have some firepower in Ben Madgen, recently judged the league's most improved player, as well as Darnell Lazare, Ian Crosswhite and Aaron Bruce, who landed two three-pointers down the stretch against Townsville that helped secure their playoffs spot.
"We feel very confident against New Zealand,'' Madgen told the club's website. "We've matched up well against them all year.
"We really don't care what anyone else thinks because most people picked us to finish at the bottom at the start of the year anyway. We've already proved a lot of people wrong and I think this team plays its best when everybody writes us off.''
Most, of course, expect the Breakers to win and deliver a three-peat and that's just another thing they need to contend with.
- APNZ