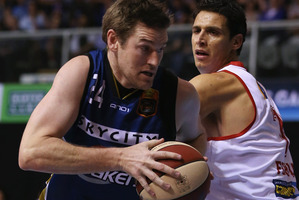 Q: Where did you grow up?
I grew up in New Plymouth in a small town called Bell Block. It was a farming-type environment. My parents didn't own a farm but we lived in the country.
Q: What sports did you play as a kid?
You name it, I played it. Rugby, badminton, tennis, cricket, soccer, volleyball ... whatever was going. My childhood was playing a different sport every day. I wanted to be Richard Hadlee growing up but when I found basketball, I wanted to be Michael Jordan hands down.
Q: Vegemite or Marmite?
I grew up on Marmite but now, due to my wife liking Vegemite, I eat Vegemite and like it a lot better.
Q: How did you meet your wife?
We met at a gas station. I lived over the road from a gas station, where she worked, and used to make up reasons to go over and buy stuff so I could meet her. I was 16 at the time ... and spent a lot of my parents' money.
Q: Can white men jump?
Look at Tom Abercrombie so, yes, absolutely. The majority no, but there are a few freaks out there like Casey Franks and Tom Abercrombie.
Q: What was your first bike?
An HMX 500. I actually raced BMX until I was about 12. I was pretty seriously into it so I had the flash bikes. I started with an HMX 500 and then went into the GTs, Hutch.
Q: You're not known for your three-point shooting. How many have you made in your 11-year ANBL career?
I think I have hit only three [out of 42] in the ANBL. A few more in the New Zealand league but not many. I actually think two of those three pointers were in one game. A few of them I have actually tried to shoot threes but most have been buzzer-beaters. The ball has ended up in my hand with the shot clock running down and I'm not really the person you want with the ball in their hands at that time.
Q: What's playing on your iPod?
A lot of hip-hop, a little bit of rap, a little R&B. My music probably doesn't fit the way I look. It's not very New Plymouth. We used to have to bring the iPod to training and each day a different person would play their music. I've had my time. It wasn't turned off so it was a good thing.
Q: What nicknames have you had?
Not too many. Dill, Bouch, Dildo, Energizer Bunny, Robin Hood. Some people called me Robin Hood when I used to steal the ball from the opposition and give it to my team.
Q: You have the names of your four children tattooed on your calf. Did it hurt?
Surprisingly not. I hate needles and injections but I didn't find it too painful.