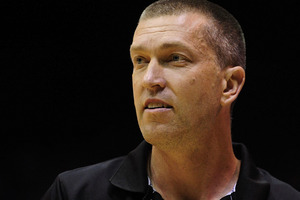 Andrej Lemanis was across the Tasman for his Boomers job interview today and might have liked to have pointed to his recent record as the most compelling reason why he should become Australian basketball coach.
It's what his assistant Dean Vickerman would do.
"We've done a pretty good job as a team, winning a couple of championships and going on a 15-0 run," Vickerman said. "I think I would like to walk into a job interview with that behind me."
Vickerman might soon be walking into an interview himself, considering he is the most likely candidate to take over as Breakers coach if Lemanis lands the Australia job.
Lemanis has been Boomers assistant for the past four years and has indicated to the Breakers he would leave the club if he lands the top job. Australian basketball have said they would be comfortable for the coach to be either fulltime or part-time, allowing him to continue as a club coach, but Lemanis doesn't think he could juggle two roles successfully.
The 43-year-old, who has been in charge of the Breakers for the past eight years, is a bookies favourite for the role along with Perth coach and long-time rival Rob Beveridge.
The Breakers are comfortable about the prospect of losing Lemanis, with Vickerman and fellow assistant Judd Flavell having been long-term appointments and others like Paul Henare, Pero Cameron and the soon-to-be-retired Dillon Boucher coming through the coaching ranks.
- APNZ