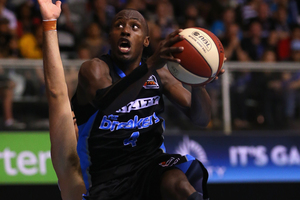 If there were any lingering doubts surrounding Cedric Jackson's MVP credentials, one drive through the heart of the Sydney defence put them to rest on Saturday night.
In a season which has already featured career-high points tallies, a rare triple-double and numerous telling contributions, Jackson added to what must be regarded as one of the best individual campaigns in the Australian NBL.
With his team's 10-game winning streak on the line against a Kings side which refused to be conquered, Jackson received the ball with the scores tied and four seconds left on the clock in overtime, drove between Sydney defenders like they weren't there and layed in the game-winner.
It was a play Jackson has made countless times this season but, given the situation, it was a vivid demonstration of his pre-eminence in this league.
Jackson won his fourth player of the week award after his impressive performance in the pummelling of Perth last Friday. It would be no surprise to see a fifth arrive after Saturday's show in Sydney and, baring a major shock, Jackson will be able to add the most valuable player trophy in a couple of months.
His 24 points - including six of his side's 14 in overtime - led by the Breakers, while the 12 rebounds and seven assists he provided were the top totals among both teams. The word 'valuable' barely does justice to the contribution.
Jackson earlier this week said "more than five" NBA teams had been in contact with his agent and were monitoring his progress. Considering how close he came last season, when his efforts in the NBA summer league attracted the attention of San Antonio Spurs, Jackson fancy his chances of landing with an American club once the Breakers' season ends in April.
The 26-year-old is a markedly better than in his first year with the North Shore club, a campaign which saw him finish fourth in MVP voting, improving his finishing at the rim and adding a dangerous jump shot to his considerable armour.
He wasn't quite Cedric Ackson last season - the ignominy suffered by Jason Kidd earlier in his career, called Ason Kidd because he didn't have a 'J' - but the improvement in that area has rendered him near-on impossible to defend.
It has also rendered the Breakers almost unbeatable when Jackson is at the top of the game. A quiet start for him and his teammates against third-placed Sydney was eventually overcome as the Breakers equalled another club record with seven straight road wins.
The defending champions will have a chance to make it 12 on the bounce at all venues when they play Wollongong at the North Shore Events Centre on Friday night, as they continue to round into imposing form in the quest for a three-peat of titles.
If they do make it three - and Perth will have something to say about that - Jackson is doubtful to be around for a tilt at an unprecedented fourth straight championship.
His success makes his return increasingly unlikely and, if he does land an NBA deal, that would also put paid to his stated aim of becoming a naturalised New Zealander to play for the Tall Blacks.
It would be a shame for fans of basketball in this country but, before they lose him, Jackson will undoubtedly add a few more moments of magic to an already jam-packed highlight reel.
- APNZ