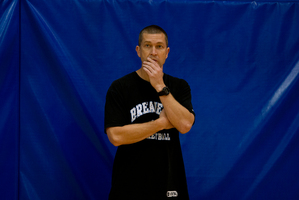 The mood at the Breakers is light at the moment but as they prepare for their first home match in a month, coach Andrej Lemanis has issued a warning about the "wounded animal" that is the Wollongong Hawks.
The contrast between the two teams could hardly be greater. While the Auckland-based club enjoyed a clean sweep of four away games over the holiday period and sit atop the NBL table, the Hawks are licking their wounds after losing two players to season-ending knee injuries.
The Hawks' two starting point guards Rhys Martin and Lance Hurdle tore their anterior cruciate ligaments against the Cairns Taipans - bad luck which has come on top of four consecutive losses, three in over-time.
"It's very disappointing," Lemanis said of the injuries. "Rhys in particular was having an outstanding season. I certainly feel for him, a kid like that who was really starting to make his mark in the NBL, to suffer an injury like that, you never want to see that happen. They still have a very talented roster ... they will have plans to remedy [the absentees], and you should always be wary of the wounded animal."
The Breakers have been lucky with injuries this season. Tom Abercrombie is beginning to hit form again after his ankle injury of last season and a bout of illness through the camp failed to derail them against the Townsville Crocodiles last week, the Breakers stealing a come-from-behind 82-78 victory.
"We're in the middle of eight games in 28 days," Lemanis added. "This is a pretty hectic stretch for us. We've spoken about the importance of staying mentally and physically sharp at this point.
"We've gone through different experiences together and that's important. This back half of the season, it's going to turn into a real war as everyone starts jostling for play-off spots."
The North Shore Events Centre is sold out for tomorrow night's (Thurs) match against the Hawks and the big crowd could get their money's worth if the last encounter between the two teams is any guide.
At the Wollongong Entertainment Centre on January 5 the lead changed 22 times before the Breakers prevailed at the end.
It's becoming a habit for the defending champions and one which is making their North Shore training base a good place to be at.
"When you're winning everyone feels good about life," Lemanis said.
- APNZ