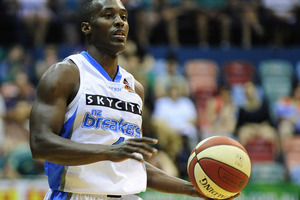 New Zealand Breakers import Cedric Jackson has been named the National Basketball League's player of the week for round nine of the NBL Championship, after registering a rare triple-double in his side's win over the Melbourne Tigers.
Jackson picked up his second Player of the Week award - he also won in round six - after an amazing 28-point, 10-rebound, 10-assist performance as the Breakers scored an easy 94-64 victory over the Tigers on Friday in Auckland.
In the process, Jackson became the first Breakers player to have a triple-double (double-figures in three major statistical categories) and did it in just 25:45 of playing time.
Jackson also added four steals for good measure, and dominated his highly anticipated match-up with former number six NBA Draft pick Jonny Flynn of the Tigers.
Jackson shot 71 per cent from the field (12-of-15) including 50 per cent from the perimeter (2-of-4) and made both his free-throw attempts.
- APNZ