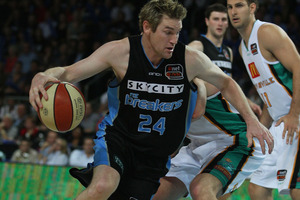 Two former team-mates will join forces at the Wellington Saints.
Veteran Dillon Boucher will join the Saints as a player and assistant coach to Pero Cameron in next season's National Basketball League.
Boucher says working with Cameron was a major carrot.
"Pero is a very intense coach so he'll probably play the bad cop role and I'll probably play the good cop role knowing his techniques.
"It's more just trying to get a lot of the youngsters that are going to be involved with the team to get some good coaching experience."
Dillon Boucher says with the Auckland Pirates place in the league looking shaky last month, he needed to have job security and the chance of winning another title.