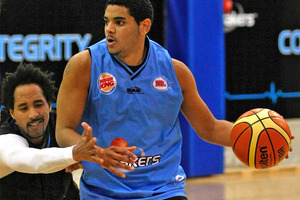 Corey Webster has been handed another chance by the Breakers after he was added as the final player on their 10-strong roster of fulltime players.
The repeat offender was cut by the club following a doping violation that led to a one-year WADA-imposed suspension but the Breakers have been impressed with how he has responded and felt he deserved another chance.
"When the club cut Corey we did so with regret in the knowledge that this could make or break a very promising young basketballer,'' Breakers general manager Richard Clarke said.
"Corey came through our development and academy programmes before joining the fulltime roster so knew full well the values and high expectations we place on everyone at the organisation.
"He has had to face the reality of what life could be like if he had basketball taken away and has spent his time out of the game to make a lot of changes in his life.
"He has worked incredibly hard on and off court over the past 12 months, we are proud of how he has reacted to what could have been a career defining obstacle. He has earned back his opportunity to be a Breaker again.''
Webster is grateful for the second chance with the club and wants to repay that faith.
"This means everything to me. I know what it was to have it taken away and that was very painful. Basketball is my life and getting this opportunity once again means everything to me. I am only halfway there, though. I have to earn the respect of the players and the Breakers family, and I have to prove I have made the right changes.
"The mistakes you make don't define you provided they put you on a path to better things. So long as you learn from them, make the right changes and become a good professional I will go some way to proving the club has made a good decision to bring me back.''
The rest of the squad is similar to the one that picked up a second-straight ANBL title. Gary Wilkinson has departed and has been replaced by former Gold Coast centre Will Hudson.
Breakers 2012/13 Roster: Cedric Jackson (point guard), Corey Webster (guard), Daryl Corletto (guard), CJ Bruton (guard), Tom Abercrombie (swingman), Leon Henry (forward), Mika Vukona (forward), Dillon Boucher (forward), Will Hudson (forward/centre), Alex Pledger (centre).
Development players: Josh Bloxham, Reuben Te Rangi, Morgan Natanahira. Non-contracted development player: Tai Webster.
- APNZ