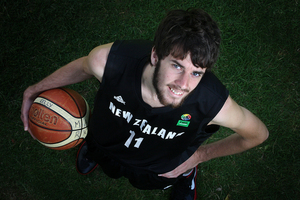 Two Australia-based players have been named in the Junior Tall Blacks squad to take on Australia at the FIBA Oceania U19 Championships in Porirua next month.
Coach Deslea Wrathall has included forward Andrew Kennerley and guard Will Soonalole in her 12-man line-up, with another trans-Tasman recruit - Jarrod Sorenson - among the reserves.
"Andrew's a big bruiser from Victoria, who should really complement the team," says Wrathall. "Will's a point guard, so we've got a nice mix of physical players, smart players and real athletes, like Reuben Te Rangi and Ana Haku."
Te Rangi, the JTB's lone survivor from the 2010 Oceania series, will captain the team, while Haku was MVP and led Rosmini College to the NZ secondary schools title last year.
The juniors have contested the Albert Schweitzer Tournament in Germany and toured China earlier this year, and while they failed to win a game, Wrathall feels comfortable with their development towards this world championship-qualifying event.
"At Albert Schweitzer, we lost all our games - we had a couple of close games and a couple of blowouts, but it's about the learning.
"But the time we finished in China, we were getting closer and tougher, which is what they have to do in games. They've got to come to play."
The glaring absence is new Tall Blacks sensation Tai Webster, who emerged as the national team's star performer during their last-ditch Olympic qualifying campaign.
With Division I US colleges now knocking on his door, Webster has withdrawn from the age-group programme to concentrate on his grades at Westlake Boys' High School.
"We didn't have Tai or Reuben in China," shrugs Wrathall. "At the end of the day, you lose someone, you bring someone else into the mix and you go with it."
New Zealand has never beaten Australia in a junior series, although they came close at the 2009 Oceania U17 Championships.
"I've said to the team, I think we've got the personnel that can have a crack at them," says Wrathall. "It's probably one of the first times I've felt that way.
"It's going to be tough. They can flat out play and have a lot of players from their U17 team that came second in the world.
"So it's not an easy task, but I'm feeling far more comfortable with the make-up of this team."
The FIBA Oceania U19 Championships - men and women - will take place at Te Rauparaha Arena from September 20-22. The winners will represent the Oceania at next year's world championships in Czech Republic and Lithuania respectively.
Junior Tall Blacks Roster
Timothy Apisai (Counties Manukau)
Anamata Haku (Hibiscus Coast)
Delroi Heu (Waikato)
Mark Kelly (Waitakere West Auckland)
Andrew Kennerley (Australia)
Mathew Lacey (Hibiscus Coast)
Derone Raukawa (Tauranga City)
Will Soonalole (Australia)
Alex Talma (Hibiscus Coast)
Reuben Te Rangi (Harbour)
Thomas Vondanovich (Wellington)
Zachary Young (Wellington)
- APNZ