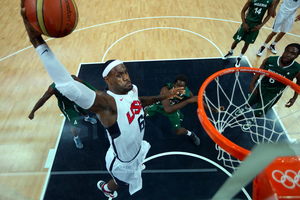 The hosts have done an incredible job of Londonising the most aggressively American sport on the Olympic schedule. As Danny Boyle demonstrated during the opening ceremony, it's the music that adds the flavour.
During the preliminary match between unfancied Nigeria and the mighty US, one encouraged act of audience participation turned the London Basketball Arena into a single, unifying celebration and affirmation of British culture.
The arena soundtrack had its share of American hits but the British tracks wove everything together; an eclectic mix of the Beatles, Basement Jaxx, Craig David, Adele, the Rolling Stones and the Clash.
As Carmelo Anthony and his band of conquerors ran riot against the spirited Nigerian side on the court, the arena announcer worked overtime to keep fans in the game.
"Who's here to see Nigeria?", boomed the voice.
"Yeah!", came the reply of thousands. I estimated thousands. Nigerian support in the arena was amazing. During the national anthems, tears flowed freely from supporters and Nigerians in the press boxes punched the sky in delight.
"Who's here to see the United States of America?" The roar was off the scale.
During a break in play, the announcer called for a sing-along. The arena DJ popped on Oasis' Wonderwall. The crowd picked it up, sang over it. The DJ cut the PA, and the crowd kept going, unaccompanied. "Because maybe ... you're gonna be the one that saves me ..." I looked around. I saw tears. Sky-punches. Nobody stood to attention, but the reception for the "British anthem" was the loudest and proudest of all.